By Leona Kesler on Apr 12, 2010 with Comments 0
---
The French have a good claim to being the nation that gave great food to the world — and the same could be said when it comes to food and wine matching.
The point about classic French food — unlike, say. Thai cuisine — is that because it's usually a fairly simple mix of ingredients, it is much easier for it to work in harmony with the wine, allowing both to shine at once. So if you're ever going to splash out and spend big in a restaurant, this is the type of food with which to do it.
Obviously, in the suggestions below you could substitute, say, a Californian Cabernet for a Bordeaux. But I've stuck with French recommendations for two good reasons: French wines are generally very food-friendly; and your average French restaurant doesn't sell many wines from anywhere else!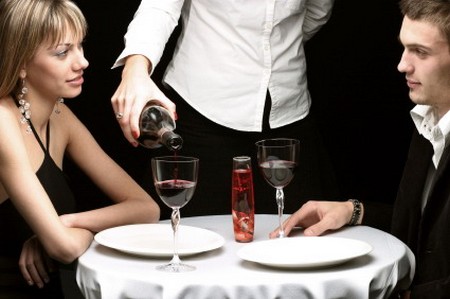 Seafood
Oysters, prawns and moules mariniere are absolutely at their best with zingy northern French whites like Chablis, Muscadet and Sauvignon Blancs from the Loire.
Fish
Depends how it's cooked. For light, white fish, simply grilled, go with the flinty Sauvignon Blancs of Sancerre. Creamy sauces need something more substantial, like a white Burgundy or an Alsace Riesling. Meaty fish like monkfish can work with lighter reds such as Pinot Noir, decent Beaujolais or Loire Cabernet Franc, as well as bigger Burgundies.
Casseroles
If there's wine in the sauce, then it's usually a good bet to use the same wine to accompany the casserole. Thus coq au vin and boeuf bourguignon both work with simple Burgundy, though the beef can also stand up to more substantial 'comfort' wines, such as reds from the Rhone or the south of France. These dishes are simple, hearty food, so there's no need to spend big on the wine.
Chicken
In a salad, go with medium-bodied whites like Chablis or simple Burgundy. If it's roasted, find a good wine to show the chicken off, like a decent white Burgundy. If you're eating really good meat (say, Poulet de Bresse), red Burgundies work, too.
Beef
Depends a bit on how it's cooked and how good the cut is. Simple steak frites or more rustic joints are good either with cheap Bordeaux, Cotes du Rhone or southern French reds. For top-quality fillet, you want as good a wine as you can afford from Bordeaux, Burgundy or classic Rhone areas like Cote Rotie.
Game
Wines with a bit of age go best with any earthiness in the meat. Again, old Burgundies and Bordeaux are the classic matches.
Cheese and pate
Sweet Sauternes is a nailed-on classic match with both foie gras and Roquefort. For big. pungent (or smoky) cheeses, try Gewurztraminer from Alsace; for goat's cheese, Sauvignon Blanc is a classic (and classy) pairing. For Brie, Camembert et al, white Burgundy is your man!
Filed Under: Food & Cooking
About the Author: Leona Kesler is a head-chef at a very popular food restaurant in New York. Also she is a blogger who shares her experiences, tips, and other informative details about food and cooking. Her recipes are featured on many magazines.
Comments (0)