By Bruno Silva on Apr 12, 2010 with Comments 0
---
It's perhaps not surprising that so many people find ordering wine in a restaurant a somewhat intimidating experience. But fortunately the nightmare scenario of giant, incomprehensible wine list and snooty waiter happens less and less. Besides, if you follow the suggestions below you'll stack the odds in your favour.
Ask the waiter
Far from being aloof, good wine waiters are usually only too pleased to help if you ask them for their suggestions. Tell them what you're all eating, what you generally like and give them a price and see what they come up with. Remember, it's their job! Just don't let them talk you into spending lots more than you want to.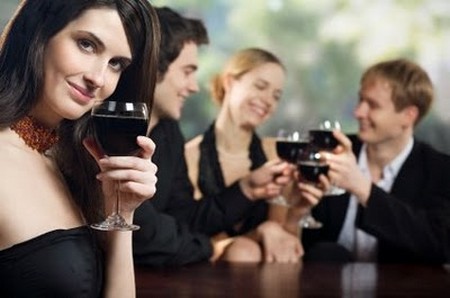 Look for familiar faces
If the restaurant doesn't have a wine specialist and your waiter looks clueless, look for brand names, grape varieties or even countries that you like to drink on the list.
Try before you buy
A lot more restaurants are offering a decent selection of wines by the glass. If you try a selection with your starters (or before sitting down to eat), you'll be able to order bottles of your favourites with confidence. Single glasses can also be a fantastic way of keeping everyone happy if, for instance, your table of four orders red meat, white meat, vegetarian and fish.
Look for clues on the wine list
Nowadays more and more wine lists have helpful descriptions of the flavours of the wines and even, in some cases, food-matching suggestions. Make the most of them.
Avoid house wines
The fact that house wines are the cheapest wines on the list doesn't, by any stretch, make them the best value. Typically, they're very, very cheap wines that have been hugely marked up and I've rarely had even a halfway decent one. My benchmark would be to find the price of the house wine, add 50 per cent and start looking around that level.
Consider safety first
If you are really struggling, certain wine styles make good bale-outs — not necessarily the best wines on the list, but solid and reliable. You won't go far wrong with Chilean Cabernet Sauvignon, Californian Merlot, Australian Chardonnay and Shiraz, and New Zealand Sauvignon Blanc.
Restaurant mark-ups
These vary significantly from country to country and from eatery to eatery, but it's not unreasonable to expect a restaurant to triple or even quadruple the price of a wine that it's selling. In other words, if you habitually spend £5 on a bottle in the supermarket, you'll probably need to spend somewhere around £15 in a restaurant to get a comparable quality.
Filed Under: General How To's
About the Author: Bruno Silva is an entrepreneur from Portugal with over 15 years of experience in Online Marketing. He is also a blogger and writes on variety of topics from online marketing to designs, cars to loans, etc.
Comments (0)