By Alan Kennon on Oct 16, 2010 with Comments 0
---
Miss J. Alexander, a famous runway coach who frequently appears on Tyra Banks' televised reality competition America's Next Top Model, teaches the lucky models on the show how to get the perfect runway walk with fierce criticism and sometimes funny remarks. Miss J. used to coach famous fashion models such as Naomi Campbell and Kimora Lee. Follow these tips to walk the runway as if Miss J. were your coach.
You will spend a lot of time walking in high heels and potentially not-so-comfortable clothes. You must keep your eyes straight ahead all the time, so you won't have the opportunity to look down at the runway. To avoid a disastrous fall, check the runway for cracks and bumps. You might remember the embarrassing moment of Jael's prolonged fall on America's Next Top Model. Avoid that same fate by closely examining the runway and the spot where you will make the turn. Also check for malfunctions in your wardrobe. Your dress might be too long or slip off your shoulder. Don't let anything distract you when you walk the runway, so double check everything beforehand.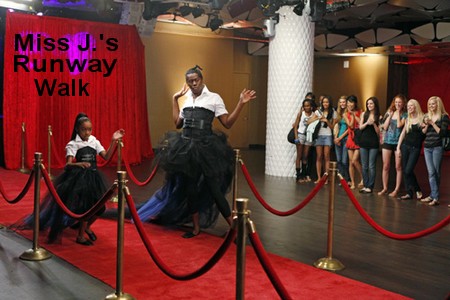 You need to wear high heels. The judges admired Elyse's runway walk during the first cycle of America's Next Top Model, but she earned criticism for not wearing heels. If you don't have a lot of experience walking in high heels, start off by wearing two-inch heels just to get comfortable and learn how to walk in them. Don't use new shoes on the runway, as they usually have very slippery soles.
Attitude and confidence remain paramount for developing a good runway walk. As Miss J. puts it, a girl can be "ugly as the bottom of the show," but a good confident walk will make her beautiful and perfect for the job. Posture proves very important, so keep your body straight, shoulders back, pelvis forward and chin just a bit down. Your arms should hang relaxed on both sides of the body, swinging gently. Avoid clinching you fists or keeping your fingers like claws. Your body and face should look relaxed and natural, even if you have to practice a lot to give that impression.
Miss J. tells models to "walk like it's for sale and the rent is due tonight." The walk must appear strong and energetic, showing off your confidence in what you're doing. Always tread a straight line when you walk and keep your eyes in front not matter what.
Avoid the temptation to look down or around you. We have a natural inclination to check the path on which we walk, so practice a lot in order to comfortably look straight ahead at all times. Focus on a single point when walking, somewhere above the crowd. Remember that you have checked the runway for bumps and cracks, so all you have to focus on is walking confidently.
Filed Under: Lifestyle & Personality
About the Author: Alan Kennon lives a very happy life with two kids and a lovely wife. He likes to share his life time experiences with others about how they can improve their lifestyle and personality.
Comments (0)