By Andrew Reinert on Mar 17, 2010 with Comments 0
---
Having your face massaged feels blissful. A gentle face massage has a positive effect over the whole body and can really act as an aid to deep relaxation. Men and women alike can appreciate the sensation of the face muscles relaxing, particularly around the forehead and jaw. Keep your movements as delicate and precise as possible, making sure you don't lean any weight on your partner, and try to avoid accidentally brushing the eyes, eyelashes or nostrils. Always be very sensitive. You can use either a very little or no oil, but be careful not to stretch or pull the skin as you work. Make sure your movements always end in an upward direction, in order that your partner is left with a positive feeling.
1. Drawing across the forehead
Cup your hands gently around your partner's head, without applying any pressure. Now place the length of your thumbs together in the centre of the forehead, just above the eyebrows. Keeping your thumbs flat, slowly draw them apart until you reach the hairline. Have in mind the idea of dispersing any tension. Repeat this movement several times.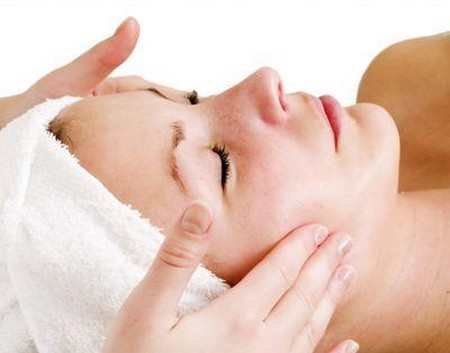 2. Drawing under the cheeks
Resting your fingers at the side of your partner's face, place the balls of your thumbs beside the nostrils, just below the cheekbones. Once more, draw your thumbs apart following under the line of the cheekbones. Continue the movement toward the ears, ending with an upward stroke. Do this once.
3. Drawing under the chin
Place your hands in the centre of your partner's chin. Your thumbs should be just above the chin, your fingers just below. Now slide your hands out along the jaw line, squeezing gently between your thumbs and fingers. Follow round as far as you can, stroking upward toward the ears.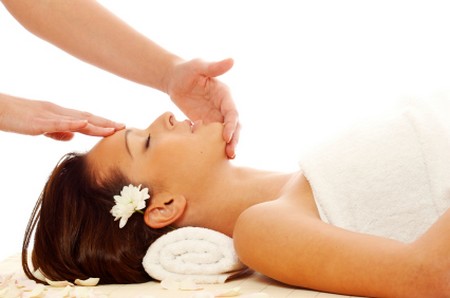 4 Circling the jaw
Place the pads of your fingers to either side of your partner's jaw, just below the cheekbones, (if you open and close your own mouth, you will feel the places where the muscles work.) Start to circle over the muscles very slowly for an effective release of tension. Make the circles quite large, keeping your fingers together.
5. Resting
To complete the face massage, place your hands gently over, but not touching, your partner's eyes. Again, think of the energy coming through your hands. Hold your hands in this position for a few moments. As well as relaxing your partner, this movement both rests and revitalizes the eyes.
Filed Under: Health & Personal Care
About the Author: Andrew Reinert is a health care professional who loves to share different tips on health and personal care. He is a regular contributor to MegaHowTo and lives in Canada.
Comments (0)