By Andrew Reinert on Mar 17, 2010 with Comments 0
---
Massaging the abdomen is a special part of any body massage. We are all vulnerable and soft here, so whatever strokes you apply will penetrate deeply. The key is to be gentle and sensitive, and of all parts of the body massage, to think positively. Include the abdomen in any massage as relaxation here has a direct effect on the muscles. Over the abdomen you can use soft, circular movements using the flat of your hands. Move clockwise in order to follow the direction of the large intestine. The abdomen picks up stress quickly, so any soothing strokes will help. Be i partner's menstrual cycle. It is fine to massage during menstruation, but check that she is not too sensitive to be touched.
1. Effleurage
Sit at your partner's side. Rub some oil between your hands, spreading it over your partner's abdomen using soft, slow effleurage strokes. Always make sure your hands move in a clockwise direction. Use the whole of the hands, keeping them flat, and ensure your movements are sensitive to help your partner relax.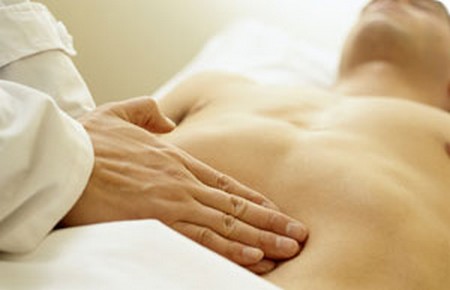 2. Circling
With one hand begin circling a little more firmly over the abdomen, still moving in a clockwise direction. Make your circle wide, taking in as large an area as possible within the boundary of the hips and rib cage. As one hand moves round, gently start to circle with your other hand.
3 Circling
As your hands continue the circle they will naturally cross over each other. Make sure you always keep one hand in continuous contact with the abdomen and lift the other off as it crosses. This gives your partner a sense of continuity. Circle with soft, flat hands several times.
4. Pulling
Leaning over, place one hand underneath your partner's body, just above the hip. Pull your hand back up your partner's side toward you. Pull with each hand alternately, using a reasonable pressure so the body moves as you do. Repeat this several times on both sides, changing position if necessary.
5. Resting
Place both hands flat over your partner's abdomen and simply rest. As you do so, feel the energy coming out through your hands and keep your thoughts positive. Make sure you do not lean any weight on your partner. This movement feels extremely powerful and will balance your partner's energy.
Filed Under: Health & Personal Care
About the Author: Andrew Reinert is a health care professional who loves to share different tips on health and personal care. He is a regular contributor to MegaHowTo and lives in Canada.
Comments (0)