By Bruno Silva on Apr 20, 2010 with Comments 0
---
You might not believe it, but you can backpack quite happily on £20 a day – or less. It needs careful planning of course, but if your budget is really tight it is possible.
When you think about what that means over the course of a two week trip – as little as £280 – this represents amazing value. Yes, you can get a package holiday in the sun for that much but you'll have all sorts of extra expenses on top and you won't see anything like as much as when you backpack.
To stay within this budget you will need to plan very well. Firstly, don't be unrealistic about the distance. Three or four countries is probably a maximum on such a budget and long hauls like the UK to the Greek islands are probably not a good idea. Also choose your actual countries with care. Expensive countries like Switzerland, Austria and most of Scandinavia are off-limits and even Germany can be expensive. Spain, Portugal and even France and Italy (away from the most expensive cities) are more realistic destinations if you are trying to keep to a tight budget.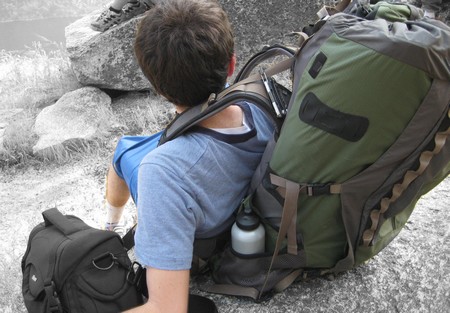 Budgeting tips
Here are some tips that will help you get by on £20 a day:
Plan your route so as to avoid having to change it. Changes can work out expensive.
Have a daily budget (£20 or whatever) and stick to it. To make this easier know approximately how much £20 is in the currency of the country you are visiting.
Make a note of what you spend so you can stick to your budget. Don't be tempted to borrow from one day so that you can overspend on another.
Look for 'honeypots'. They may be a bit touristy but you can do lots of different things without spending a lot on travel. For example, in Athens you can enjoy the culture, spend a day on the beach at Glyfada and share Greek village life by taking a short 30 minute bus trip out of the city.
Don't plan to travel every day. It eats into your budget more than almost anything else.
Make use of cheap or free accommodation, such as sleeping on coaches or trains. Also consider camping (although remember that the tent etc will take up most of your luggage space).
Have one large meal a day rather than lots of snacks – these are overpriced in almost every country.
Look for free entertainment, such as ancient sites rather than museums and music bars rather than nightclubs.
Travel in good weather wherever possible. It always works out cheaper in terms of food, clothes and entertainment.
Travel early or late. There are more cheap travel and accommodation bargains to be had May-June and in September than in July and August.
Pay for what you can before you go. It is not as easy to overspend.
Consider taking a credit card. If you are visiting several countries you won't have to keep paying out to change one type of foreign currency into another and so on. If you're worried about running up a large debt put your money into the account before you go.
When changing money, change everyone's cash together as this will mean you only pay one transaction charge and you may even get a higher exchange rate for larger sums.
If you're going as a group share things which you don't need one each of, such as a camera. This way you'll have more space to carry things that you won't have to buy on the way, such as food.
Avoid staying in popular tourist towns, cities and resorts which are always overpriced. Instead, base yourself a few miles away and travel in by bus. You'll save a small fortune.
Buy your travel tickets, excursions and entry tickets where the locals buy them (ask!) rather than at smart travel agencies and tourist offices where tourists tend to shop.
Buy food, drink and gifts in back street shops which are usually much cheaper. Try telling the shopkeeper you are living in his/her town for a few months as shops in some resorts operate a dual pricing system for residents and tourists.
If you're travelling as a group look for hotels, hostels and campsites which charge per room (or per tent) rather than per person as this will work out much cheaper.
Look for activities and entertainments aimed at students which are almost always cut-priced. There is nothing to say you have to be a student in that country. In many places you don't even have to be a student to claim a student discount if you just ask for it!
Avoid anything aimed at tourists as it is usually overpriced.
Talk to your fellow travellers. People who have been in your chosen destination for a few days or weeks will know about all the best deals and cheapest places to go.
Filed Under: General How To's
About the Author: Bruno Silva is an entrepreneur from Portugal with over 15 years of experience in Online Marketing. He is also a blogger and writes on variety of topics from online marketing to designs, cars to loans, etc.
Comments (0)