By Andrew Reinert on Nov 24, 2010 with Comments 0
---
You can find a wide variety of anti-aging products on the market; thus, many women feel confused when trying to choose the right products. Anti-aging products tend to be very expensive and promise excellent results. Unfortunately, these products usually don't offer the promised results and can actually damage the skin. Anti-aging products in stores contain toxic chemicals and can cause allergic reactions. A healthier, more effective and cheaper alternative involves making your own anti-aging products from ingredients women have successfully used for centuries. Your skin will benefit greatly from using homemade anti-aging products, which are always fresh and rich in substances that fight wrinkles and leave the skin smooth and supple.
Raw egg yolks, one of the main ingredients for many homemade anti-aging products, contain anti-oxidants and hydrate the skin; thus, they work very well on their own or combined with other ingredients. For a simple anti-aging facial, beat a raw egg in a bowl and apply the mask on your face and cleavage. Keep the mask on for one-half hour until the egg dries. Remove it with warm water. Your skin will be toned and smooth, as the egg mask removes dead skin cells and shrinks the pores.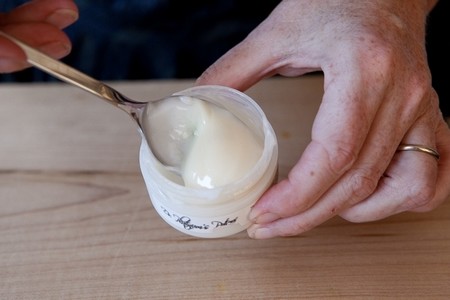 One of the most important steps in skin care involves scrubbing to get rid of dead skin cells and give your face a fresh appearance. Make your own facial scrub by combining baking soda with ground oats. Add some hot water and stir until you have an homogeneous mix. Apply the mix to your skin and massage it in for a few minutes, using circular movements. Remove the mix with warm water until your skin comes clean. Baking soda heals the skin, while oatmeal nourishes it.
The skin around the eyes is very sensitive, and it's one of the first areas where wrinkles make their way. Prepare a natural eye smoother with jojoba oil, vitamin E oil and rose oil. Add a teaspoon of each ingredient in a bowl and mix well. Massage the mixture onto the skin around your eyes every night to prevent the appearance of wrinkles. Avoid getting the mixture in your eyes.
Clay masks also prove very effective in fighting the aging of the skin. Get green clay from a natural foods market and combine it with water and a few drops of rose oil. Stir the mixture in a bowl until you get the approximate consistency of toothpaste. Apply the mask to your skin and relax for one-half hour. Remove the mask with warm to cool water. Green clay tightens the pores and leaves the skin looking smooth and fresh. Rose oil will protect your skin and help it stay supple.
Take care of your skin every day. Hydrate it twice a day and apply a capsule of vitamin E to your face before going to sleep. Apply a natural mask twice a week and scrub your skin at least once a week. Natural anti-aging products will help your skin stay young and beautiful if you always use fresh ingredients and apply the products over the long run.
Filed Under: Health & Personal Care
About the Author: Andrew Reinert is a health care professional who loves to share different tips on health and personal care. He is a regular contributor to MegaHowTo and lives in Canada.
Comments (0)