By Jason Prickett on Aug 02, 2010 with Comments 0
---
Now you can spend less time to clean the kitchen, so that you can able to pay your attention on other things. Probably, it's possible to make your kitchen clean in even 5 minutes. Besides it's not a chemical based process, it's a normal green cleaning that usually you do. So read the following steps:
Procedure:
Control the dishes:
It is better to hide the dirty dishes away from sight. Start the dish washer to do its job by putting those dirty dishes in it. In case if there is no dishwasher hide them in laundry basket. Dip those dishes in water with the help of some sprinkling baking soda. Now leave those dishes for some time and start doing other things.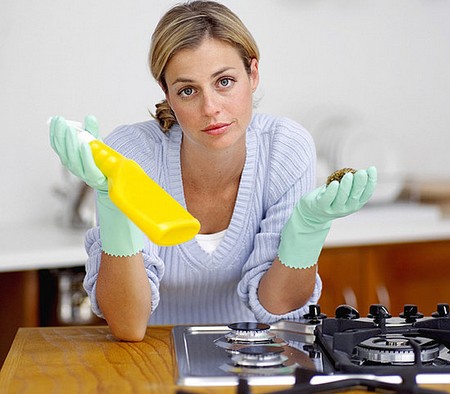 Care about trash:
Put all the trash that you see in the kitchen into trash or garbage can. It is better to look around again the kitchen, whether there exist any trash or not. You may leave one or two pieces of trash. Keep all those away from the house. Use the trash can again till you feel its odour free and clean.
Properties of refrigerator:
Move and search for any clutter or mass around your kitchen, which belongs to refrigerator. Neatly arrange the things and make sure about the refrigerator. It is not necessary that it should be in order but it shouldn't be so messy and rubbish.
Cover some of those in the cabinet:
Look if any clutters are there which belongs to your kitchen cabinet? It is better to cover those things far away from your cabinet. Clutters can be hidden in the cabinet.
It acts as a better hiding place. Anyway these clutters can be paid attention later.
Wiping time:
Have a dry cloth and wet cloth in both hands. Wet cloth is used to remove any stain on the chair, table, sink, floor and other areas. Dry cloth is used to clean the wet spots fast. You can also use flour sack towels or Swedish dishcloth to dry the dishes before piling them in the drawer or cabinet.
Think of the flowers:
Your kitchen place can be turned around an inviting place by keeping a beautiful flower vase. Especially a basket full of fruits can be arranged for a better centerpiece. If you like you can also add scented candles.
Make it sensation:
There are several ways to clear the nasty and rubbish smell away from kitchen. These nasty smells can be hidden by spraying air sanitizer and air freshener. Besides all those you can use also scented candles or an inviting oil burner as a inviting delighter in your kitchen.
You may also ask anyone to help you in the house to clean. As more people help you, your process will get finish quicker. As faster you move you can clean around more things. Good luck.
Filed Under: Home & Maintenance
About the Author: Jason Prickett loves to write about home maintenance and stuff you can do yourself instead of hiring any professional. His step by step guides will assist you in completing your home maintenance tasks.
Comments (0)