By Andrew Reinert on Jun 22, 2010 with Comments 0
---
Fantastic pairs that hold you walk lifelong. Most of us ignore and ill-treat it. Many problems such as blisters, fungus, sweaty feet, calluses, nail conditions, spasms and cold feet, which cause severe embarrassment and nuisance.
Of course, with your tight schedule it is difficult to care your feet which results in blemishing your feet. Strain a little and give a beautiful renovation to your feet.
Have you ever thought of your feet's burden? They suffer all along the day. They carry you throughout your life. Never fail to pay attention to them.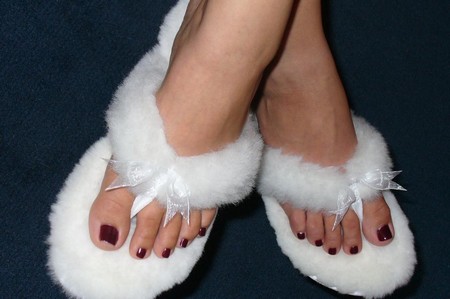 Habitual nail coloring leads to discoloration. Give them a break often to check your toe's problem. There are different methods to care your feet. The different beautifying ways are given. There is certain professional methods called pedicure. This method is very costlier. Pedicure is done in beauty parlors.
Beautifying ways:
Periodical hydration
Cleansing hard skin
Moisturizing skin lotion
Periodical hydration:
Keep your feet recharged and rejuvenated. A relaxing foot cleanse in warm water never fails to repay.
Fill a tub with warm salt water. Use scrubbers to scrub your feet well to clean all the dust. Gently massage them with some cleansing creams. Wash them gently with warm, soft water.
Never forget to brush your toes too. Toenails have minute dusts at ends and curves. Clean them gently with softheaded flat or round brush. Trim your toenails without any hangnails
Soaking facilitates in healing all wounds. Clean your nails with buds.
After soak, dry your soft foot thoroughly with a towel.
Cleansing:
Once cleaning is done cleanse them again in salt-water soak. Cleanse the harder bumps and lumps.
Use a pumice stone for cleaning the harder skin. Use a salt scrub to clean the dead skin.
Exfoliating often results in a cute feet which looks lovely in unwrapped toe sandals.
Moisturizing lotion:
Moisturizing lotion helps you in massaging your toes. Always massage from toe to ankle. This keeps your toe look soft and shiny.
Never forget to wear socks, which help in absorbing the moisture completely and keeps your toe good for a longer time.
Apply nail colors to your taste. Always see to it you never forget your base coat before applying your top coat.
Do not worry thinking things are late, keep a step ahead at this moment to care your feet, keep them free from cracks, callus and get a young tender feet that you deserve.
Filed Under: Health & Personal Care
About the Author: Andrew Reinert is a health care professional who loves to share different tips on health and personal care. He is a regular contributor to MegaHowTo and lives in Canada.
Comments (0)