By Leona Kesler on Sep 15, 2020 with Comments 0
---
Stuffed Eggplant Parmesan is a universal dish that is loved by both vegetarians and meat lovers as well. This meal can easily feed 2-4 people. It is a satisfying meal that combines vegetable, spices, cheese and love all in one dish. You can serve your stuffed eggplant parmesan with a nive romaine lettuce salad and garlic bread for a complete and impressive meal for your friends and family to enjoy.
Things You'll Need:
1 whole eggplant
1 whole sweet potato
5 cloves garlic chopped
1/2 cup chopped onions
1/4 cup finely chopped bell pepper
2 tablespoons of Sesame oil (Olive Oil works too)
1/3 cup cubed Canadian Bacon or Bacon bits(optional meat)
Herbs such as Rosemary, basil, oregano, thyme, ginger, & paprika
1 egg
1/2 + 1/4 cup shredded Parmesan cheese
1/4 cup bread crumbs
1/2 cup Marinara Sauce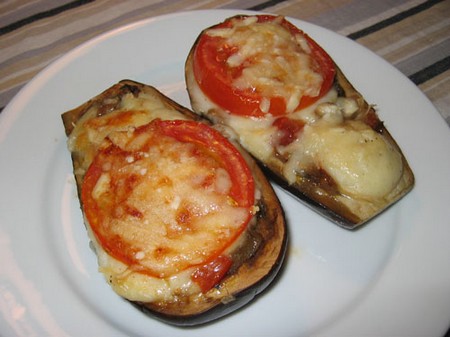 Step 1
Slice your eggplant in half lengthwise. You need to cut out the inside flesh. This will leave you with 2 eggplant bowls to be stuffed.
Step 2
Microwave your eggplant halves for 5-10 minutes until the flesh gives just a little. Remove the eggplant. Allow the eggplat to sit for 5 more minutes to finish the baking process.
Step 3
Peel your sweet potatoes. Chop them into even sized pieces.
Step 4
Microwave your potato until soft. This usually take 3-5 minutes. Then allow the potato to sit for 5 minutes.
Step 5
Add sesame oil to a frying pan. Heat the oil. Put your eggplant, potato, onion, garlic, belle pepper, rosemary, basil, thyme and oregano into the pan. Stir fry this until the onions are clear. Beat an egg and stir it into this mixture.
Step 6
Divide the mixture in half and stuff it into your eggplant shells.
Step 7
Sprinkle one stripe of paprika (red), then basil (green) and a stripe of cheese (white) to show. This makes your dish look like the Italian Flag.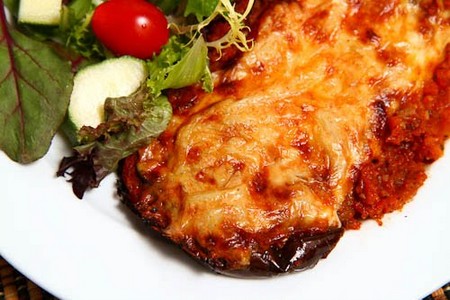 Step 8
Divide 1/2 cup of Parmesan cheese. Sprinkle the cheese over stuffed eggplant mixture. Top each with half the bread crumbs. Then add marinara sauce to the top and 1/4 cup of Parmesan cheese.
Step 9
Bake the eggplant in 350 degree oven for 30 minutes. If splitting into 4 servings. Allow eggplant sit about 5 minutes before cutting and serving. Serve the stuffed eggplant hot. Enjoy!
This hearty and aromatic recipe will fill your home with good flavor. It is sure to become a family favorite. The taste is robust and authentically Italian. If you think you don't like eggplant, try this recipe, you will fall in love with it. It's delicious.
Filed Under: Food & Cooking
About the Author: Leona Kesler is a head-chef at a very popular food restaurant in New York. Also she is a blogger who shares her experiences, tips, and other informative details about food and cooking. Her recipes are featured on many magazines.
Comments (0)