By Cody Riffel on Nov 21, 2010 with Comments 0
---
Do you love to eat sweets? Specifically starbursts? Instead of throwing everywhere the wrapper of this sweet candy you can still make something with the wrapper? Here are steps you can follow to make a bracelet with the use of a starburst wrapper. It is exciting to learn and recycle things instead or making the earth suffers with the problem of garbage in the world.
To many people that are creative, this project is something exciting for everybody in different age group. If you want to give your friend a cool and colorful gift that is specially made by you, why not try this kind of gift. You can look for different kinds of designs you can make as an inspiration of the bracelet that you want to have. This is a perfect project which you can share making with your friends or even your family members.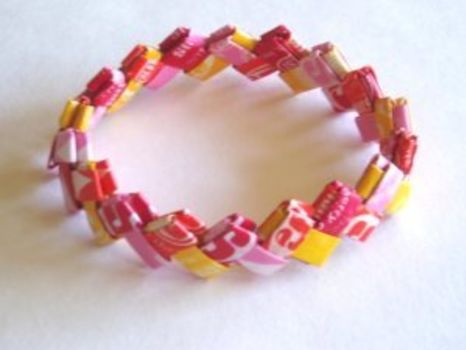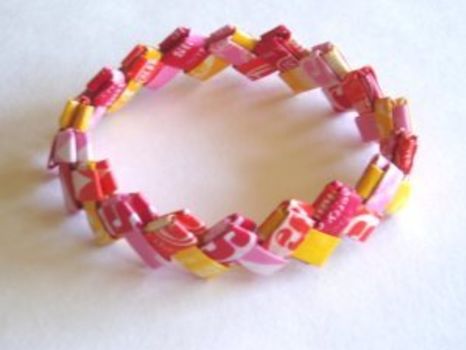 WHAT YOU'LL NEED
Starburst wrappers
Clasp or lock for a bracelet
other beads or ornaments you can have in addition to your bracelet and you can also use or recycle other beads that you are not using anymore.
INSTRUCTIONS
When you are done with the starburst wrappers you do need to throw it, Collect it and save the wrappers for this is the main material for your project. Decide on what size of bracelet you will make and the design you can to add for the special person.
Carefully put the wrapper of the candy on a flat surface and fold in half crosswise and make a very visible crease, then unfold and place it again in a flat surface.
You need to bring the two portions of the edges together and it should meet at the crease so that it will be folded in thirds. Fold again the edges to meet at the center and you can have a long, folded wrapper in hand with equal stickiness.
Then fold the wrapper into half but this time it should be lengthwise, push the middle so that you can create a crease and you need to unfold it again to have a stick folded wrapper.
You need to bring both the edges so that it will meet at the middle and you fold it. You should have the v-shape folded paper.
Repeat the procedure until you will have enough v-shaped folded paper.
Put together the open ends and make a loop which meets at the middle of a v-shaped paper.
Continue putting together the v-shaped paper until you will reach the desire length of your bracelet and at both ends of the bracelet then you need to punch in a hole and attach the clasp that serves as a lock. If you want to have extra decorations do not hesitate to put and play with your imagination.
Filed Under: Arts & Entertainment
About the Author: Cody Riffel is a regular contributor to MegaHowTo. She likes to write on variety of topics, whatever interests her. She also likes to share what she learns over the Internet and her day-to-day life.
Comments (0)