By Leona Kesler on Dec 05, 2010 with Comments 0
---
Ask a local hailing from Korea what their specialty food is and they will answer kimchi. This can also be known or pronounced as Kim Chee. Both mean the same thing. Kimchi is quite a popular Korean dish. It is a dish made out of fermented vegetables and it tends to be spicy. Kimchi came about because the Koreans were searching for ways to preserve food during the winter season and to keep them warm. It is considered today as one of the healthiest foods available worldwide. The cabbage is loaded with lots of vitamins and minerals and it contains compounds that are recognized as strong and powerful fighting against cancer. Studies have shown that the cabbage can offer protection against several forms of cancer and it could even cause the growth of existing tumors to cease. The following are the steps to make kimchi with cabbage.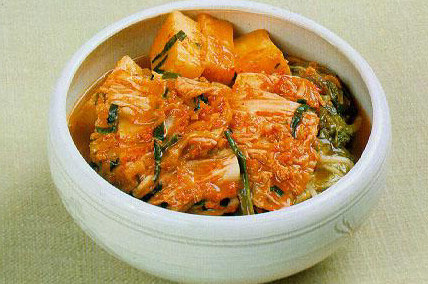 Kimchi is widely popular and wonderfully flavored. As a cabbage dish that is fermented, one can use this as relish or vegetable side or add it into stews and soups.
This recipe can also be utilized to prepare a wide variety of vegetables and even raw fish such as but not limited to peppers, watermelon rinds and turnips.
Kimchi is relatively easy to prepare. It does not take a toll on your wallet, neither is the time for preparation is so consuming as to deprive you of engaging in other activities.
WHAT YOU'LL NEED
picking salt (3 tablespoons)
water (6 cups)
Chinese cabbage (2 lbs, cut into small squares measuring 2 inches)
Fresh ginger (minced, 1 ½ tablespoons)
Hot pepper (dried, 2 tablespoons)
Sugar (1 teaspoon)
INSTRUCTIONS
The salt measuring 3 tablespoons must be dissolved into the water.
In a big bowl, place the cabbage. Pour in the brine. Allow this to stand for a period of twelve hours.
Then, the cabbage must be drained. But remember to reserve the brine. Incorporate the other remaining ingredients.
The mixture must be packed into jars usually 2 – quart in size. Fill the jar with the brine to an extent that the cabbage is completely covered.
A freezer bag must be pushed into the jar's mouth. Continue to pour what is left of the brine.
The bag must be sealed. Allow the kimchi to ferment for around three days to six days in an environment that is cool enough.
Filed Under: Food & Cooking
About the Author: Leona Kesler is a head-chef at a very popular food restaurant in New York. Also she is a blogger who shares her experiences, tips, and other informative details about food and cooking. Her recipes are featured on many magazines.
Comments (0)