By Leona Kesler on Jan 08, 2018 with Comments 0
---
You have come to the right place if you want to learn how to make your very own homemade hamburger. It is a relatively easy dish that is quick and simple to learn and make. It will not consume or eat up a lot of your time and neither does it require a lot of money to make these yummy burgers. Burgers can be great for dinners or backyard barbeques. Follow the simple steps below to be on your way to making a nice and juicy homemade hamburger!
WHAT YOU'LL NEED
ground beef (1 lb.)
hamburger buns (6 pieces)
egg (1 piece)
Worcestershire sauce (1 tablespoon)
Salt
Pepper
Bowl
Tray
Plastic wrap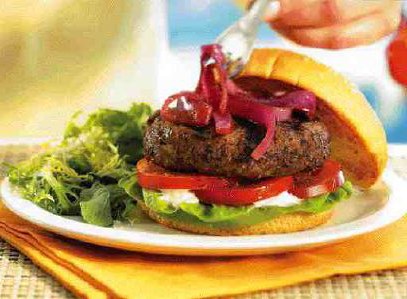 INSTRUCTIONS
in a bowl, combine the egg, Worcestershire sauce, pepper, salt and the beef. Mixing with your hands ensures a thorough mix so that all the flavors will be brought out.
Form the meat. Make them into six balls of even size. Roll them with your hands. Press the meat down onto a tray to about half an inch thick or three quarters of an inch thick. One can opt for a thicker size but remember that the cooking time will be longer.
With the use of the plastic wrap, cover the said tray. Place the tray inside the refrigerator for a minimum period of thirty minutes. This will make the burgers stick together as they cook. Warm meat will fall apart.
The next step is to cook the burgers. There are many different methods. Try broiling the burgers on a medium heat level. This should take around six minutes for each side. One can also barbeque the meat. This will take a similar time also. Another way is to pan fry the meat. If one is utilizing ground beef that is lean, make sure that you add a bit of butter or oil onto the pan.
Prepare the toppings. Conventional toppings include tomato, lettuce, pickles and onions. But really, you can put just about anything on your burger. Stack the toppings onto the bun, toss in the hamburger patty and enjoy your homemade hamburger!
After knowing how to create your own homemade hamburger, try to spice things up a little. Incorporate some cheeses or other things into the patty to call your homemade burger truly your own.
Filed Under: Food & Cooking
About the Author: Leona Kesler is a head-chef at a very popular food restaurant in New York. Also she is a blogger who shares her experiences, tips, and other informative details about food and cooking. Her recipes are featured on many magazines.
Comments (0)