By Leona Kesler on Jul 06, 2010 with Comments 0
---
All the mothers who give birth to their child first time may not aware what kind of food to be provided for their young ones. In that case they either have to consult their doctors for providing healthy and nutritious food. Instead buying some canned food from the stores we rather go for some homemade healthy food. There are some foods which can be prepared at home in simple way which are healthy to the child.
Puree Baby food: This food is very simple to prepare. After cooking the food, let it to cool for sometimes. The food may be vegetables like apple, potatoes and banana. The mixer is crushed and stirred well by adding small amount of water. Breast milk can also be added instead of water and it can be given to the baby. The softness of the food makes the baby to enjoy eating them. These additional liquids gives more nutritious to baby.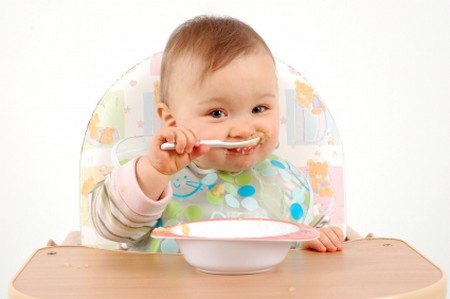 Pumpkin baby food: A good amount of iron and protein are supplied by the pumpkin. The amount of fat in pumpkin is very much low but has high fiber. Pumpkins are rich in vitamin A and beta carotene. Beta carotene easily digested in human body and converted into vitamin A. Heart disease and risk of cancer is highly reduced by beta carotene. Pumpkins are baked and chilled for sometimes. After that it is pureed and stirred well. Banana can be mixed to that pumpkin puree thoroughly and baby prefers to have that yummy food. Other foods like apple, sweet rice, carrots, brown rice, blueberries, peaches, chicken, and yogurt can also be mixed with the pumpkin.
Baby food added with winter squash: Butternut and acorn squash are some winter squash which is a wonderful, nutritious food rich in vitamin and calcium. This squashed food is offered for a baby as early as 4-6 months. Butternut and acorn squash are cut into half and baked at 400 degree with an inch of water. After 1 hour the halves will be soft and the scoop squash meat is taken out. That meat is pureed well by adding a little amount of water. The other way is the squash is peeled out first, then cut into thick pieces and boiled as like potatoes. After boiling it is pureed well and offered to the baby. This method is very difficult also it consumes more time. Other foods like brown rice, potatoes, apples, pears, beef, chicken, pork, carrots, parsnip, lentils, and peaches are also mixed with the winter squash and offered to the baby. This nutritious mixed food is yummy and baby enjoys eating.
Filed Under: Food & Cooking
About the Author: Leona Kesler is a head-chef at a very popular food restaurant in New York. Also she is a blogger who shares her experiences, tips, and other informative details about food and cooking. Her recipes are featured on many magazines.
Comments (0)