By Cody Riffel on Jul 06, 2010 with Comments 0
---
Children buy Halloween stones to beautify their yards on the occasion of Halloween. This is sheer wastage of money. Time and money can be saved if you make your gravestones on your own instead of buying them at departmental stores.  By this, your gravestone will also look unique. You can have different epitaphs by this method. You can give more realistic inscriptions to your gravestones. Handmade gravestones are also more durable. Also people love these handmade gravestones. This is because as they have in them the hard work of the creators as well as they look more appealing to the people looking at them. As told before you can make your own hand made gravestones. It's not a very difficult task. You just need a will to do it. So, just get yourself ready to design this Halloween architecture.
In order to make gravestones, you need the following things:
Plywood or Styrofoam
Paint
Jigsaw or knife
Pen
Stakes
Gloves
Mask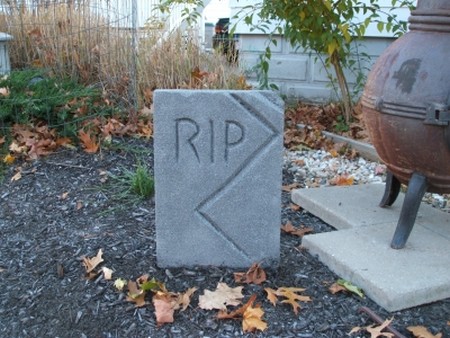 Choosing the material and cutting:
Styrofoam looks like marble. It has greater thickness than plywood. It has thickness of 2 inches approx. It is a little fragile and expensive.
Plywood is very cheap. It has many advantageous characteristics. It is more durable than the Styrofoam. To make six to ten gravestones, a 4 into 8 feet sheet will be adequate, but the size is the main determining feature of this measurement.
Leave an appropriate space for carving the epitaph. First, trace it with pencil and then cut properly. Draw cracks. Cutting should be done with knife in case of Styrofoam and with jigsaw in case of plywood. Carvings should always be given by knife.
Painting
A paint which has stone texture is mostly used. The gravestone should appear worn so first apply some white and gray paint on the plywood and then apply the textured paint. If any part of Styrofoam eats away the paint, don't worry; it will give pure authentic look to the gravestone. Paint all corners and let it dry.
Attaching stakes to gravestones
Stakes can easily be attached from the lower border if the gravestone is made up of Styrofoam. You will have to screw the stakes into the gravestone if it is made up of plywood. Now it is able to stand right on the side of your garden.
You can boast of your gravestone as very ancient. You can have fun at this event of Halloween with your family as well. Good luck for your coming gravestone.
Filed Under: Arts & Entertainment
About the Author: Cody Riffel is a regular contributor to MegaHowTo. She likes to write on variety of topics, whatever interests her. She also likes to share what she learns over the Internet and her day-to-day life.
Comments (0)