By Alan Kennon on Mar 17, 2010 with Comments 0
---
If the child with ADHD is experiencing handwriting problems or is finding handwriting boring, there are a number of creative solutions you could employ:
Allow more space – when making worksheets, allow for bigger handwriting, as the child's immature handwriting is often larger than that of the peer group. Use the enlarger on the photocopier to make larger copies for the ADHD/dysgraphic pupil.
Use exercise books for younger pupils where the lines are spaced further apart or have the pupil write on every other line to improve legibility.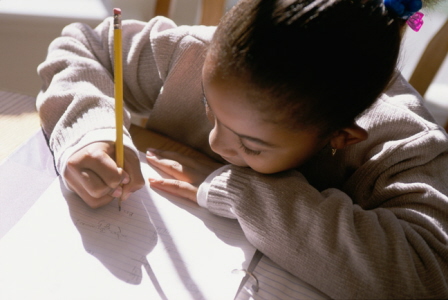 If squared paper is not available for mathematics then use lined paper in landscape so that the writing lines form columns to help line up numbers.
Keep cups full of different pencils/pens and when the ADHD child is becoming bored, place the cup on his desk and ask him to use a different pen for each word or sentence. This gives him something to fiddle with, slows him down and keeps him focused on the writing task.
Use coloured paper or coloured pens/markers/crayons instead of just pencil – the use of colour helps hold the pupil's attention. Using black paper and gel pens is a way to bring variety to routine (boring) writing practice.
Cut out interesting paper shapes in coloured paper for spelling lists.
Use individual blackboard slates and chalk to teach handwriting. Use small pieces of chalk and small pieces of sponge to clean the chalk marks. This develops the fine motor control skills needed for penmanship. White boards are too slippery and do not provide the sensory feedback of chalk, necessary for motor learning.
Other creative ideas include involving other pupils as note-takers and allowing the pupil to dictate answers. In rare cases speech-enabled computer software can be useful. These strategies can be implemented where the child significantly underachieves with the written word compared to verbal expression.
Poor handwriting can impact on a child's self-esteem and, typically, children who have problems with handwriting are very aware of their lack of skill and will try to avoid it. The risk is that they have a paragraph of knowledge in their heads but are only prepared to put a sentence on paper. Like all aspects of learning, a sense of success builds self-confidence and encourages new learning. The challenge for you is to find a way for poor writers to feel successful, while encouraging them to improve. This can be done by:
not drawing attention to poor writing
giving clear expectations as to when 'best writing' is required and allowing less good writing at other times o reducing the quantity of 'best writing' required and giving praise for those samples o allowing more time for 'best writing'. When speed is required, allow for less legible output
encouraging keyboard skills.
Allow the pupil to dictate to another adult (teaching assistant or parent) when the 'content' is what is being evaluated.
Filed Under: Lifestyle & Personality
About the Author: Alan Kennon lives a very happy life with two kids and a lovely wife. He likes to share his life time experiences with others about how they can improve their lifestyle and personality.
Comments (0)