By Vanessa Page on Jun 15, 2010 with Comments 0
---
When you think of your work place, you might conjure up images of a hellish environment. But you can make your working environment more pleasant by making friends with your co-workers. If you're new at work, you might find it difficult at first to make friends, but there are specific things you can do to build relationships and gain friends in the workplace.
Make the first move. Many people hesitate when there is a new person in sight or might be shy about coming forward to greet you or to invite you to lunch. The key to making friends is to be one, so make the first move and introduce yourself. Do not be shy, yet do not come across as too strong. Remember that first impressions last. You want to make an impression by being friendly so you can build a lasting relationship with them with co-workers.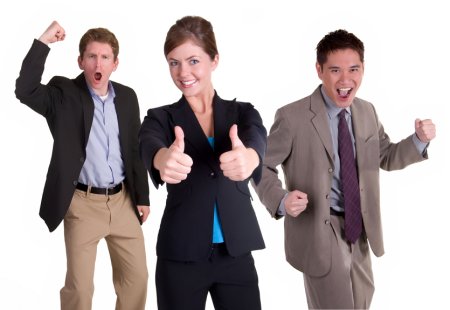 Allow them to warm up to you. You might be filling a job a former friend previously held, so they might find it hard at first to warm up to you. Be patient. Your co-workers might feel they need to be loyal to their friend, and you have to respect that. Just wait and give them time.
Take their advice. When your co-workers give you advice, part of them is concerned for you. They likely know what they're talking about since they have worked for the company longer than you. And even if you know better, listen to them. The last thing you want to do is make an impression that you can't be a team player. You can suggest ideas once you've been introduced as part of the team.
Stroke their egos. People love talking about themselves, so can ask them about their personal lives such as if they're married or have kids. Avoid talking about yourself too much unless they ask you back. You want them to know that you want to know them on an even more personal level.
Smile. Appear as a really friendly and genuine person. A smile is an indication you are an approachable person and encourages others to come up and talk to you.
Share your food. If you take your lunch to work, you might want to double that up and invite your co-workers to share your food with you, making you appear generous and kind—two traits essential for being a good friend. Talking while having a meal can ease any awkwardness you and your co-workers might feel toward each other.
Find common interests. If you and your co-workers are fond of movies, you can invite them to see a film with you. Or if you and your c o-workers are fond of sports, invite them to watch a game for which you have free tickets. Engaging in activities outside of work can enhance healthy relationships with your co-workers.
Filed Under: Work & Careers
About the Author: Vanessa Page works a career counselor in one of the leading firms in Los Angeles. She is also a blogger and gives tips on how people can tackle their work and career issues. She has 8 years of experience in this field.
Comments (0)