By Leona Kesler on Oct 01, 2017 with Comments 0
---
Cooking the famous filet mignon might sound a bit hard especially if you are not fun of cooking steaks. However, if you have a stove, skillet, and couple of ingredients ready together with the filet mignon you are ready too cook a nice dish to serve to your family during dinner or party.
Before, you even start cooking be sure you pick up the right meat in order to come up with a delicious dish, filet mignon.
WHAT YOU'LL NEED
bowl
bacon strips
skillet
filet mignon
garlic cloves (crushed)
4 tbsps. of butter
portabella mushrooms (1-2 pcs.)
pepper
salt
2 tbsps. of peanut oil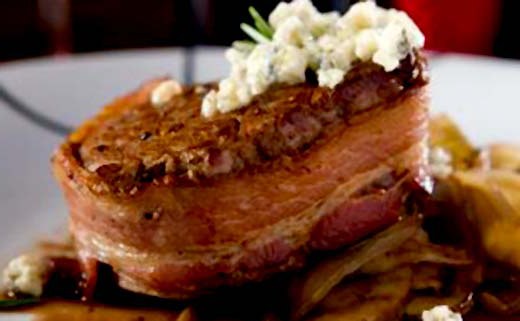 INSTRUCTIONS
Have the meat sit at the room temperature. Wrap the filet mignon with bacon. This will help the meat from drying and also adds more flavor as well.
Next step is to cook the portabella mushrooms. Use a skillet and heat it up through turning the stove at medium-high heat. Melt 2 tablespoons of butter on the skillet together with the mushrooms. Sauté them for about 4-5 minutes after the mushrooms are all done put them inside a bowl. Then, set aside the mushrooms while you are going to cook the filet mignon.
Use the same skillet that you cooked the mushrooms in. Add a pinch of salt and freshly cracked black pepper into the pan. Add the peanut oil and when it's steaming hot, put in the filet mignon. In order not to make the steaks stick to the skillet, you need to shake the skillet a bit. Add up the mushrooms together with the steaks. Cook the meat for about 3 minutes or so for each side.
Then, flip the steak once and add the remaining butter plus cloves of garlic.
Never attempt to cut the filet mignon. In order to check whether it is done or not, all you have to do is simply press the center and feel the meet. If it's starting to feel firm yet you can feel it is soft, then it is done. You do not want too soft or too firm meat on your platter.
When the filet mignon is done, place it on platter together with the sauce which you can get fresh from the skillet. The remaining juice from the meat will serve as a good sauce for the filet mignon.
Filed Under: Food & Cooking
About the Author: Leona Kesler is a head-chef at a very popular food restaurant in New York. Also she is a blogger who shares her experiences, tips, and other informative details about food and cooking. Her recipes are featured on many magazines.
Comments (0)