By Leona Kesler on Oct 01, 2017 with Comments 0
---
Are you looking for the perfect thing to make for dinner? Try roast beef. When making roast beef the thought of the classic roast and vegetables may come to mind. Both experienced and novice cooks may become slightly intimidated at the thought of making a classic roast. The idea of overcooking the roast and drying it out too badly is a reserve for many people who love to cook. However, cooking classic roast is not as complex as it may appear. It can be as simple as placing it in the oven and removing it after it is thoroughly cooked. Here is a recipe that will show you how to make roast beef. This recipe will make a great additional to any menu whether it is a special occasion, holiday or Tuesday night dinner. This recipe serves about 8 to 12 people. Continue reading for more information. How to Prepare a Traditional Roast Beef
Items You Will Need:
Aluminum Roasting Pan
Rib Roast (1) (10 to 15 lbs.)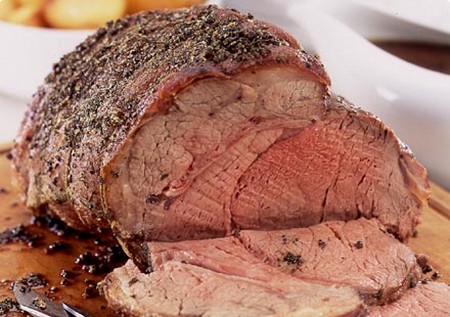 Black Pepper (Cracked)
Groceries
Kosher Salt
Non Virgin Olive Oil
Thermometer for Meat
Step 1
Preheat your oven to 450 degrees.
Step 2
Take the original packaging off of the roast beef. Rinse the meat with cold water. Place it in the aluminum roaster.
Step  3
Apply the non virgin olive oil to the surface of the beef. Do not get oil in the bottom of the alumni roaster.
Step  4
Season the roast with the cracked pepper and salt.
Step 5
Put the roast beef in the preheated oven.
Step 6
Cook for 20 minutes. Lower the heat of the oven to 325 degrees.
Step 7
Open the stove and check to see if the roast beef is cooked all the way. You can use a meat thermometer. If you want rare results the temp should read 130 to 135 degrees. For medium rare results the temp should read 140 to 145 degrees. For a medium roast, the temp should read 155 degrees. A big roast may need between two and four hours to completely be done.
Step 8
Allow the roast beef to sit for 20 to 30 minutes to rest at regular room temperature before slicing with a sharpened kitchen knife. This allows the juices to redistribute themselves throughout the beef. This actually contributes to whether the meat will be dry or tender.
Step 9
Decide which side dishes should complement your roast beef. Standard accompanying items can range from carrots, mashed potato, rice, celery or even whole potatoes. Roast beef is flexible and can be paired with many items. Serve the roast while it is hot. Enjoy your classic roast beef.
Filed Under: Food & Cooking
About the Author: Leona Kesler is a head-chef at a very popular food restaurant in New York. Also she is a blogger who shares her experiences, tips, and other informative details about food and cooking. Her recipes are featured on many magazines.
Comments (0)