By Leona Kesler on Feb 19, 2018 with Comments 0
---
There is a little fun tradition my daughter and I made up. It's called banana bonaza. Banana bonanza is freshly baked home made banana bread accompanied by a cool dollop of fresh banana pudding on the side. It's definitely a banana lovers delight. Making the two items is a fun thing for all the family to help with. It's easy and the results are simply irresistable. Here is how you can make banana nut bread and banana pudding for your own version of banana bonanza.
Procedure:
Things you'll need for Banana Nut bread
2 eggs
3 bananas
1/2 cup butter
3 tablespoons milk
1 teaspoon vinegar
1 cup sugar
1 1/2 cup flour
1 teaspoon baking soda
1/2 teaspoon salt
1 cup chopped nuts
Step 1
Mix the 1 teaspoon full of vinegar with the 3 tablespoons milk in a small bowl. Stir the two ingredients together well. Set the mixture aside for later.
Step 2
Take three whole bananas and mash them together in a bowl. Place the mashed bananas in the bowl with the milk and vinegar.
Step 3
Now prepare your bread batter. Mix 1 ½ cups flour and 1/2 teaspoon salt. Stir in 1 cup of sugar and 1 teaspoon baking soda. Mix well. Add 2 well beaten eggs and the ½ cup of liquified butter. Now add your milk and vineagr mixture.
Step 4
Prepare your pan. Grease and flour the loaf pan. Preheat the tp 325 degrees.
Step 5
Pour your banana bread mix in the loaf pan. Bake for 1 hour. The bread is done when a toothpick when a toothpick inserted comes out clean. Allow the banana nut bread to cool before you slice or serve it.
Things you will need to make the banana pudding:
1 big box of vanilla pudding
3 cups milk
1 can condensed milk
1 tub of cool whip
7 bananas
1 box vanilla wafer cookies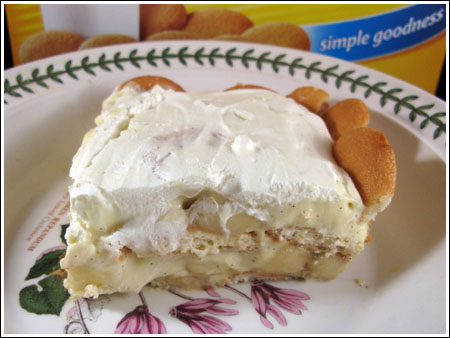 1/2 teaspoon vanilla extract
Step 1
Mix the 3 cups milk and 1 can condensed milk with the box of vanilla pudding. Make sure the custard is not too thick or thin. Follow the directions on the box to make sure you are preparing it correctly. Place the mixture in a casserole dish or pan of your choice.
Step 2
Line the bottom of the pan with the vanilla wafer cookies. Add your sliced bananas. Make your layers even.
Step 3
Pour approximately half of the pudding over the cookies until they are completely covered. Repeat the process of layering your banana pudding. Bananas, cookies and pudding. Top the pudding with whipped cream. Refridgerate for 2 hours. Serve the pudding cold.
Filed Under: Food & Cooking
About the Author: Leona Kesler is a head-chef at a very popular food restaurant in New York. Also she is a blogger who shares her experiences, tips, and other informative details about food and cooking. Her recipes are featured on many magazines.
Comments (0)