By Leona Kesler on Nov 11, 2010 with Comments 0
---
Alfredo sauce is one of those ingredients that restaurants apply to their dishes which make the food truly worth its price. One cannot help but wonder what ingredients were involved to create such a flavourful and tasty sauce. Believe it or not, you can create your own alfredo sauce in the comforts and convenience of your own kitchen. Whip up pasta dishes or other entrees that go well with the alfredo sauce and you will have a very marvellous dining experience at home. Your dinner guests and the members of your family will be impressed beyond words so it should come as no surprise that they ask for another heap of second helping or even a third.
Do you want to learn how to create Alfredo sauce? It does not require the knowledge and skill of rocket science. However, there are a few things one should always observe in making great Alfredo Sauce. Follow the recipe below and you can turn your simple meal into one similar or even better tasting than those offered by restaurants.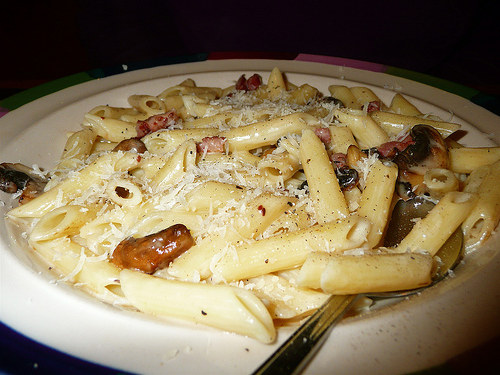 WHAT YOU'LL NEED
wide, thick pan (I prefer using my skillet that is cast iron because the heating is very even)
butter (for two people, probably around three quarters of a stick
few ounces of cream
few ounces of parmesan cheese
olive oil (few tablespoons but this is optional)
INSTRUCTIONS
Heat your pan, bringing it to medium heat temperature. Melt the butter. Personally, I melt around half the stick. I use this as basis for all the other proportions.
Cream should be added next. The amount of cream should be two times as much as the butter. Stir constantly but slowly.
At this stage, the heat must be set at a temperature or level high enough so that the alfredo sauce bubbles just a bit. Continue to cook this to lessen the cream in the sauce. One method to shorten the time for cooking is to heighten the heat. However, you will have to stir at a faster rate.
The next step is to toss in the parmesan cheese. Stir in the parmesan cheese. The parmesan cheese should be melted into the sauce. Drizzle just a little bit of the olive oil.
Continue to keep stirring in order that the sauce will thicken up. You can serve the alfredo sauce when you already think that the consistency of the alfredo sauce is thick enough.
Filed Under: Food & Cooking
About the Author: Leona Kesler is a head-chef at a very popular food restaurant in New York. Also she is a blogger who shares her experiences, tips, and other informative details about food and cooking. Her recipes are featured on many magazines.
Comments (0)