By Jason Prickett on Jul 30, 2010 with Comments 0
---
The well-dressed bed should always be ready for any occasion. Be prepared for the onset of sweet dreams or for more intimate moments by taking the time first thing each morning to make your bed look perfect. Fold your blankets. Plump your pillows. Straighten your sheets and duvet. Get rid of the clutter and buy the best 10 lb weighted blanket to improve your sleep. Spray some lavender water under the covers to keep them fresh.
Cotton on
Invest in the best sheets you can afford. You don't have to have lots of sets, three will do. I would gladly sacrifice one set to have truly beautiful, luxurious cotton sheets. Choose the very best cotton, even if you have to iron them, as they really improve with age. Check the weave. The denser the thread-count, the better.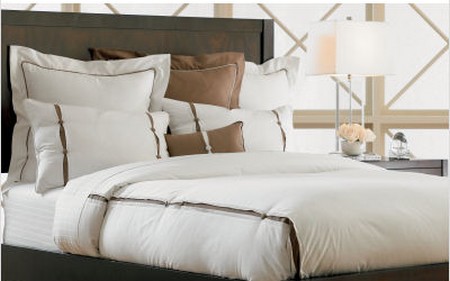 In the quest for an easy-care world, many bedclothes are manufactured in synthetic blends of polyester and cotton. Although it reduces the need for ironing, these just don't hold a candle to the beauty of natural fibres that breathe and keep you cool. Be adventurous. Try linen in the summer, cotton flannel in the winter or satin when it strikes your fancy. Indulge in a selection of different colors to adjust to the seasonal lighting or just to pick up your mood.
Cover up
The covers you choose to keep you warm will depend on the season.
Duvets or quilts come in a variety of weights and fillings to make you comfortable all year. Feather is the warmest while still being lightweight, but there are many synthetic fillings that can be used in all temperatures as well.
Blankets or shawls are an added sign of cosiness and are great to throw around your shoulders when snuggled up with your favourite book. Try merino wool, which is the softest to the touch, or polar fleece, a modern, synthetic fabric that is very warm and available in a great selection of patterns and colors. In the summer, use just a top sheet or a lightweight cotton cover.
Making up
How you make your bed is a matter of personal choice. I use both a fitted sheet and top sheet and then have a duvet on top. I would rather launder a top sheet than a duvet cover on a weekly basis. Some prefer to forgo the extra top sheet in favour of having just a duvet, which will then require washing more often.
Ideally, it is lovely to hang your linen outside to dry and iron sheets and covers when still a bit damp. If you give them a good tug before you hang them, you may get away without ironing at all. If you must use a dryer, do so on a low setting and remove while still a bit damp to the touch to iron more easily. Always find the time to keep your duvet looking wrinkle-free.
Bedlinen sizing varies greatly around the world. Before you go out to buy new sheets, take the dimensions of the mattress and don't forget to measure the thickness, as many fitted sheets will not fit extra-thick mattresses. Standard mattress thicknesses are between 17 and 20cm.
All dressed up
Beautiful sheets and bedcovers have been passed down through families for generations. Often they were part of the wedding trousseau, so special care was taken to select the finest cottons and linens that would withstand the test of time. Many cultures delicately embroider the finest cotton sheets as a special gift and families gather in many parts of the world to assemble a quilted bedcover as a symbol of good luck for the married couple. Many antique shops stock supplies of lovely old bedlinen. Shop around and you could find the perfect complement to your bed.
Your well-dressed bed should invite and entice you. It should beckon you for a snooze on a sunny afternoon and soothe you after a day of hard work. It should feel comfortable – the firmness of the mattress and fluffiness of the pillows; the smoothness of the sheets and warmth of the duvet. Take the time every morning to give it some special attention. Like an old friend, it will be waiting to nurture, comfort and protect you. Sweet dreams.
Filed Under: Home & Maintenance
About the Author: Jason Prickett loves to write about home maintenance and stuff you can do yourself instead of hiring any professional. His step by step guides will assist you in completing your home maintenance tasks.
Comments (0)