By Leona Kesler on Nov 11, 2010 with Comments 0
---
Margaritas are among the well-known cocktail drinks all over the world. One can also prepare a tasty virgin margarita sans the alcohol. This is an easy method to produce epicurean virgin margaritas which will surely be a hit in parties. Serve it beside alcoholic drinks so designated drivers will have an alternative choice. With this great tasting drink, those designated drivers will never feel that they were left out of the fun. It is also a good choice for those who are abstaining from alcohol or are reducing their alcohol intake or those who are simply very health conscious. They will enjoy the booze without the harmful effects of alcohol on their body. This recipe produces around eight servings and is easy and convenient to follow and make.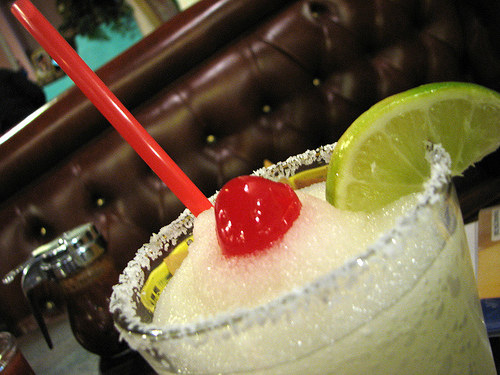 WHAT YOU'LL NEED
sugar
small pot
rimmed plate
lime & lemon zest
lime juice
lemon juice
lime wedges
orange juice
syrup drink (Agave)
small pitcher
margarita glasses
ice
INSTRUCTIONS
Mix one half cup of sugar and one half cup of water on a saucepan. The heat must be set at medium. Toss in two tablespoons of lime zest and two tablespoons of lemon zest.
The mixture must be brought to a boiling level or temperature. The sugar must be dissolved completely so continue to stir constantly. Take this mixture away from the heat and let it cool down to normal room temperature. The mixture should have made a consistency similar to syrup that is semi-thick.
Incorporate the lime-lemon syrup with one and one half cups of lemon juice, one and one half cups of lime juice, one fourth cup of agave syrup and four cups of orange juice in a pitcher. The container must be placed inside the refrigerator. Let the virgin margarita concoction chill for a period of at least thirty minutes.
Add two teaspoons of salt and one teaspoon of lime zest on a rimmed, small plate. Combine well. The rims of the margarita glasses must be rubbed with the lime wedge. This will moisten the rims. With the rims facing down, dip the margarita glasses on the lime and salt mixture.
Put ice cubes on the margarita glasses. Ensure that these glasses have salted rims. Pour margarita into some glasses. For garnish, use lime wedges. The margaritas must be served immediately.
Filed Under: Food & Cooking
About the Author: Leona Kesler is a head-chef at a very popular food restaurant in New York. Also she is a blogger who shares her experiences, tips, and other informative details about food and cooking. Her recipes are featured on many magazines.
Comments (0)