By Leona Kesler on Nov 24, 2010 with Comments 0
---
Protein, comprised of essential and non-essential amino acids both provides the body with energy to perform its daily functions and encourages portion control so you can resist the temptation of high-calorie foods. A protein shake can provide a great way for people to achieve their fitness goals. If you plan to lose weight or feel a lack of energy every day, protein shakes can prove very beneficial to your overall health.
Choose the protein powder that will work best for you. You can find many different brands of protein. Always look at their calorie content and nutrition labels to ensure you have the right brand for you. For an energy supplement, include more carbohydrates but make sure they contain less sugar and fewer calories. You must have quality protein powder so it can last longer in your system.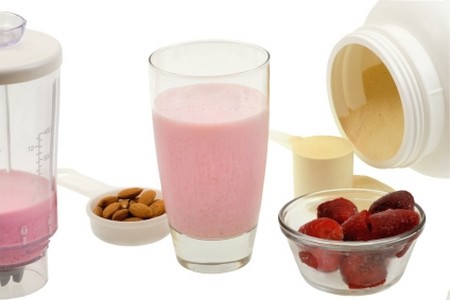 Once you have the right protein powder for you, you can start making your own protein shakes. Determine what flavor you like. Many different flavors of protein shakes exist, such as banana, berries and vanilla.
Purchase the necessary items from your local grocery store. The basic ingredients of a protein shake: milk and fruits. Most nutritionists suggest a non-fat or soy milk if you plan on losing weight. Use fruits or honey instead artificial sweeteners. Consider investing in a good blender as well.
Prepare all the ingredients. Combine your low-fat milk or soy milk inside the blender together with your protein powder. Add in one or two full scoops of protein powder to the milk mixture. Place the lid on your gadget and blend for about 20 seconds or until the powder gets mixed well. Turn off the blender.
Add in your choice of fruits. Mixed berries not only provide you with plenty of vitamins, but they are also rich with antioxidants good for your body. Bananas have a high rate of potassium and prove essential to maintain your muscles in good condition. Add in ice cubes for texture and honey, if necessary, for flavor.
Don't be afraid to experiment. Your protein shake does not always have to taste like vanilla. You can mix and match the flavor of your protein powder with your shake. Combine banana and vanilla, or add in different kinds of berries to keep your taste buds happy.
Consider adding other essential oils good for health. Virgin coconut oil can help maintain your cholesterol level and protect you from certain cancers. Flax seed oil, rich in Omega 3, proves good for the heart and blood pressure. You can also add in other ingredients such as Bragg's Liquid Aminos or wholegrain probiotics to make your shake healthier.
Blend your shake well until smooth. Drink your protein shakes in the morning or right after a weight-training workout, when your muscles have greater nutrient absorption rates as part of the repair and recovery process.
Filed Under: Food & Cooking
About the Author: Leona Kesler is a head-chef at a very popular food restaurant in New York. Also she is a blogger who shares her experiences, tips, and other informative details about food and cooking. Her recipes are featured on many magazines.
Comments (0)