By Roberta Southworth on Jun 16, 2010 with Comments 0
---
Perhaps you have been friends with a guy and really like him but don't know how to get him to like you back. Maybe you've been dating this guy and want to know his intentions toward you. Making a guy like a woman can be challenging. While some are gifted with the right skills and faces, it can be much more difficult for others. But you can make him like you: you just have to work with you have.
Smile. A smile can launch a thousand ships. You might not have an ethereal beauty, but a smile can turn any face beautiful. It is also a scientific fact that the more you smile, the more people perceive you as beautiful. A smile is costs nothing and is effortless to create; just remember that a genuine smile always works best.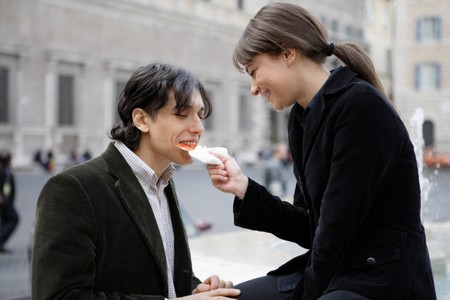 Be independent. An independent woman is desirable because it shows you have a life of your own. Maybe you have a business of your own, are excelling in your career, are financially stable, have your own apartment, etc.
Be attractive. A little make up and effort in dressing up goes a long way. A man appreciates a woman when she tries to look good. This also shows him you take care of yourself well. Remember that you have to cultivate both your outward and inward beauty.
Be adventurous. Men are adventure seekers and will find it a plus to know a pretty and independent woman isn't afraid to go mountain climbing, rappelling, surfing, etc. These show that you can be an all-around girl.
Be a good conversationalist. It doesn't hurt to know a little about everything. It takes more than the weather to be able to keep up your end of a conversation with a man. To know that you have a say on different things will impress him. You can learn a little about sports and news—general topics about which most guys want to talk.
Add a little humor. A man loves a good laugh. Have you noticed they love hanging around and goofing off with their buddies? Let him know you can crack a joke, too, but be careful not to sound obnoxious so you don't turn the guy off.
Shower him with attention. Men like ego boosts. If they truly deserve it, never be apprehensive to voice your admiration. Maybe he looks good in what he wears or did a good job at work, so feel free to give him compliments. A man needs someone to stroke his ego.
Find someone with the same values as you. If you're a vegan, find a vegan partner at vegpalapp.
Filed Under: Family & Relationships
About the Author: Roberta Southworth is a psychiatrist by profession. She likes to help out people by writing informative tips on how people can to solve their family and relationship issues. She is currently staying in Ireland. She has 5 years of couple counseling experience.
Comments (0)