By Alan Kennon on Oct 18, 2010 with Comments 0
---
Louis Vuitton has manufactured couture purses and luggage for over 150 years. Though many years have passed, the design and details on the bags haven't changed much overall. Many sellers out there try to pass fake Louis Vuitton bags for real ones, so learn these tips and tricks to differentiate between the two.
The stitching on Louis Vuitton bags is very accurate. The pieces of leather that tie the handles to the handbag should both have a standard number of five even stitches. If your bag doesn't have an even number of stitches, you probably bought a knock-off. Authentic Louis Vuitton bags also don't have sewn-on parts. If you see a sewn-on bottom, it's not a real Louis Vuitton product. Authentic bags generally come from one piece of leather or canvas. Any wrinkles or cracks on the fabric should cause suspicion, as Louis Vuitton makes all its bags from the highest quality of materials.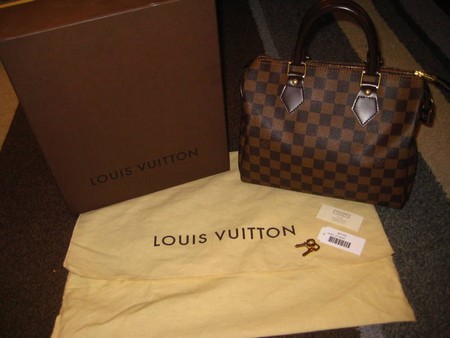 The logos on Louis Vuitton handbags feature carefully monogrammed insignias. They should not vary from the standard and should also not vary from the bottom to the top of the bag. If you see any variation, you most likely have a fake Louis Vuitton product. Check the Louis Vuitton official website at http://www.louisvuitton.com/ to look at the products and get an idea about how the monogrammed logo should look.
In 1980 Louis Vuitton introduced serial numbers and date codes for its bags to keep better track of them. Look for an embossed code inside the handbag or luggage. It should consist of two letters standing for the factory that manufactured the bag and three to four digits that represent the manufacturing date. If you see any variation in this formula, think twice before buying the product.
Louis Vuitton products come with tags separate from the bag. Many fake Louis Vuitton bags have the tags attached to them. Also, the handles of original Louis Vuitton handbags do not have plastic, paper or bubble wrap covers. Another sign to check for? The quantity of Louis Vuitton bags the seller has on hand. If you visit a shop full of Louis Vuitton bags, you might be looking at fakes. Louis Vuitton puts a limited number of products to sale specifically to avoid resale issues. A high price doesn't automatically mean you have an authentic bag. On the same note, cheap Louis Vuitton bags are most probably fakes. Louis Vuitton doesn't offer sales or discounts for its products. If you plan to buy online, ask the seller for as many photographs as possible to analyze the bag carefully. Keep in mind Louis Vuitton states that it makes LV bags available online through the official website only. You an also look on https://www.thepurseaffair.com/ to check if there are resellers of authentic LV bags and other luxury brands.
Filed Under: Lifestyle & Personality
About the Author: Alan Kennon lives a very happy life with two kids and a lovely wife. He likes to share his life time experiences with others about how they can improve their lifestyle and personality.
Comments (0)