By Jason Prickett on Jan 22, 2010 with Comments 0
---
The hall carpet and landing carpet should be laid first. Where the landing meets the stair banisters, turn over the edge of the carpet, so that the fold fits neatly against the banisters, and nail carpet tacks through both thicknesses, if you do not have a carpet just yet, check this Turkish rugs catalog using the link. Take the flap allowed for the first riser over the top nosing and push the end over the gripper strip at the bottom of the top riser, forcing the carpet into the corner. Trim any carpet off the end first if necessary and fold over the edge running along the banisters and hammer tacks into the riser to secure it. It will help to make the fold if you cut the bottom corner off at an angle.
Now lay your carpet strip down the stairs and fold over the edge next to the banisters. Start laying the stair carpet by folding over the top edge and pushing it under the flap from the landing you have already secured to the top riser. Use carpet tacks to secure this all along its back edge. Making sure the carpet is a snug fit on the wall side (where it is not secured), check the fold at the banister side to make sure it is right up against the banisters and nail this folded edge in place with carpet tacks. Put in more tacks down the banister side of the next riser down and then push the strip into the corner between this riser and the next tread. Force this into place, using a clean bolster (wide) chisel and a rubber mallet. Work down the stairs like this, checking that the carpet is straight, until you get to the bottom. On a straight bottom step, the carpet is secured to the gripper strip fitted at the bottom of the riser and, for security, tacked into place as well (the hall carpet fits below the gripper strip).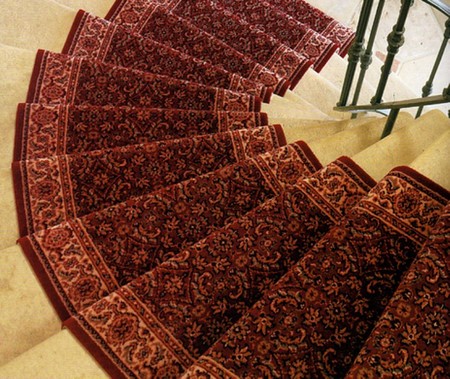 With a bullnose stair, you will need to cut the carpet carefully to fit it round the newel post and to take it round the curve of the bullnose. Tack it into place all round the bullnose on the riser.
Filed Under: Home & Maintenance
About the Author: Jason Prickett loves to write about home maintenance and stuff you can do yourself instead of hiring any professional. His step by step guides will assist you in completing your home maintenance tasks.
Comments (0)