By Justin Belden on Mar 27, 2010 with Comments 0
---
If you enjoy creating short videos or movies, you will almost certainly love YouTube. It is an online video sharing website that lets Internet users upload the videos they made so others can view them. Making and sharing your own videos can be fun and exciting, but you should be very careful when you do so. Posting videos online can be risky, especially if carelessly done. This is the reason why people are advised to always think of their safety before posting any video for public viewing.
The most vital security tip you need to keep in mind is to protect yourself and your identity. You should avoid mentioning your name and address in your videos, especially your full name. You might think that mentioning your city or town might be okay so long as you don't give your street address, but you may want to think it over when doing so. Internet users can be very resourceful, and with the right information they might be able to discover significant information about you as well as where you live.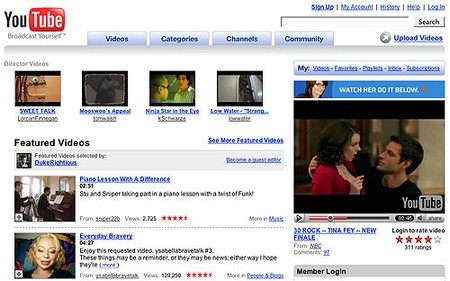 One reason YouTube is so well known to people, besides the fact that you can watch or upload movies to the YouTube site for free, is that you can actually rate videos and leave comments whenever you want. Registered members can talk about an interesting video and share other more interesting ones with other Internet users. You may even gain friends by doing so. Always remember that some people can be deceitful, so you should always keep safety in mind. Refrain from giving any personal information. When you use the Internet, whether you use YouTube or not, you have to remember that it is hard to know exactly who is sitting behind the computer screen on the other end of your conversation. No matter what exchanges between you and your "friend" take place, do not give any information about your identity.
Some Internet users might research about you, and you may wonder why anyone would do such a thing. Different people have different motives, but you should always assume that those intentions are not in your best interest. As mentioned, different Internet users have different motives, but one thing that can commonly motivate them are seductive or eye-catching Internet users. You may have created a video blog or a comedy skit with your friends for fun and wanted to look your best on camera, but see to it that you do not take it too far because people might misunderstand and put you at risk.
You are advised to be cautious with whatever you post online, so if you are making a video of yourself and your friends, see to it that they know your intentions for posting. Be careful about invading anyone's privacy. You should also avoid posting clips of television shows, movies or music videos to which you do not have rights. This results in copyright infringement. Usually your YouTube video will just be pulled from the site, but you may also be sued and might face legal action.
These safety tips are only some that you will want to remember when creating a video for YouTube. When you feel uncomfortable in doing something, it is always best to follow your instincts.
Filed Under: Computers & Technology
About the Author: Justin Belden is a freelance web & graphic designer with over 15 years' experience. He is also an Avid member of the Design/Development community and a Serial Blogger who loves to help people by sharing interesting and informative tips and trick related to computer and technology.
Comments (0)