By Jason Prickett on Jan 17, 2010 with Comments 0
---
Rimless sinks depend on a stainless-steel mounting rim to hold the sink bowl in place, flush with the countertop surface. After making the countertop cutout (using a template or the mounting rim's central partition) as a guide, lay a continuous 1/4 in.-diameter snake of plumber's putty on the inside of the rim partition and set the bowl in place. Punch-outs in the rim that hold the sink temporarily in place can be pushed out with a screwdriver. Apply another snake of putty on the outside of the rim before setting the whole assembly in place in the cutout. Rim clips spaced equally around the perimeter of the sink pull the rim down against the countertop and snug the sink up against the rim. These are available in different sizes to fit different countertop and sink thicknesses.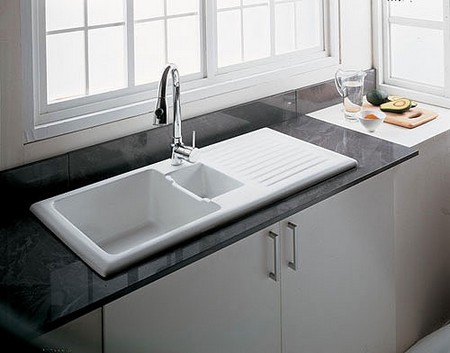 Undermount sinks function better than rimless sinks because water can be swept off the countertop and into the bowl, without the rim of the sink getting in the way. Some countertops have premounted bolts or female threads cast into the underside of the countertop to which are fastened clips that hold the sink bowl in place. A bead of silicone caulk between the upper rim of the bowl and the underside of the countertop helps hold things in place and keeps water from seeping into the joint. Often now, both the sink and the countertop will be made of the same solid-surface material and can be glued almost seamlessly together.
Wall-mount sinks work well in small bathrooms and are more accessible for wheelchair users. They are supported by metal hangers that are attached to the wall, so blocking needs to be added during the framing stage. It's a good idea to premount both the faucet and the hot- and cold-water supply tubes on these sinks before installation because there isn't usually a lot of room to maneuver once they are in place. The supply tubes can be left long, and then cut to length once the sink is in place.
Pedestal-sink sizes and styles vary widely, and their installation requirements vary from manufacturer to manufacturer. In some cases the sinks are supplied with mounting brackets that connect the sink basin to the base, while other sinks and bases connect directly to the wall. Also, drain and supply rough-in specifications vary from sink to sink, and installation will be difficult if the rough-in specs haven't been closely followed. Since the supply and drain connections are exposed, care should be taken while completing the final plumbing hookup.
Filed Under: Home & Maintenance
About the Author: Jason Prickett loves to write about home maintenance and stuff you can do yourself instead of hiring any professional. His step by step guides will assist you in completing your home maintenance tasks.
Comments (0)