By Justin Belden on Dec 29, 2009 with Comments 0
---
Nucleus is an open source blog management software. Nucleus is based on PHP and utilizes MySQL. It was developed and maintained by Wouter Demuynck. Nucleus is often used too manage a frequently updated web content.
Nucleus allows you to have more than one weblogs through a single installation. You can also show the content from all the weblogs on one page. You can assign different author to each blog. You can configure the settings in the administration panel so that some authors have posting rights while others can change the settings. Nucleus allows you to have more than one category. When you add a blog entry that is not related to any categories you have created, you can create a new category for it.
Nucleus has a commenting system so that users can comment on the post. Nucleus allows you to run your blog on your own server. If you want to create a blog entry and post it on a future date, you can mark it as draft. You can also specify the publishing date for the blog entry you have created.
Nucleus can be easily customized through its user friendly templating system. The administration panel of Nucleus supports multiple language. You can display another language on your administration panel through language files.
If you want to install Nucleus through cPanel, follow the instructions below:
Procedure:
1.  On the homepage of your cPanel, click on the Fantastico icon. This will take you to the home page of Fantastico.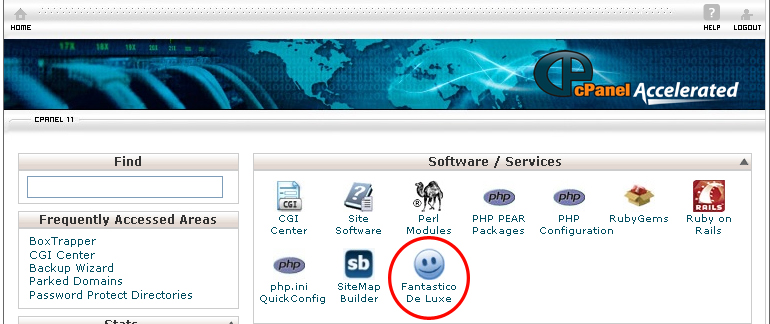 2.  Click on Nucleus in the Blogs section on the left Navigation bar.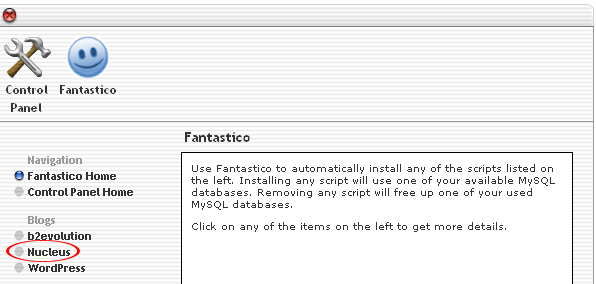 3.  Click on New Installation.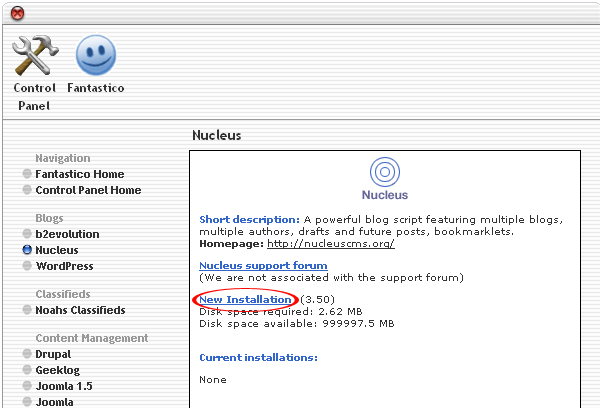 4.  Select the domain on which you want to install Nucleus from the Install on domain drop down menu.
5.  If you want to install Nucleus in the root directory of the domain, leave the Install in directory text box empty.
6.  If you want to install Nucleus in a directory, enter the directory name. This directory should not be existed. It will be automatically created.
7.  Enter a username in the Administrator-username text box. You need this to enter the Nucleus administration area.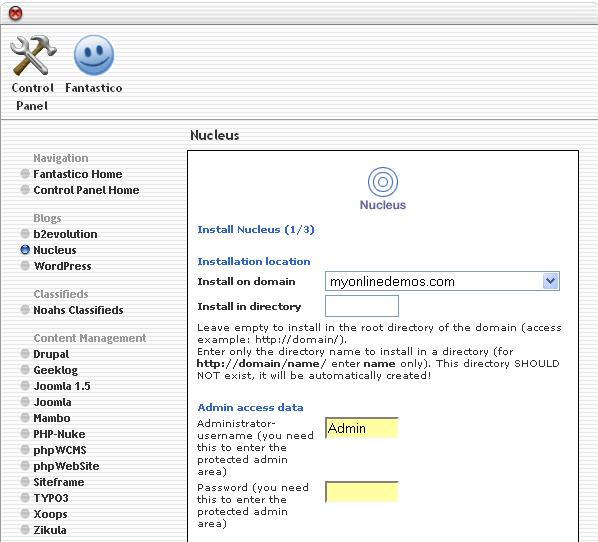 8.  Enter a password in the Password text box. You need this to enter the Nucleus administration area.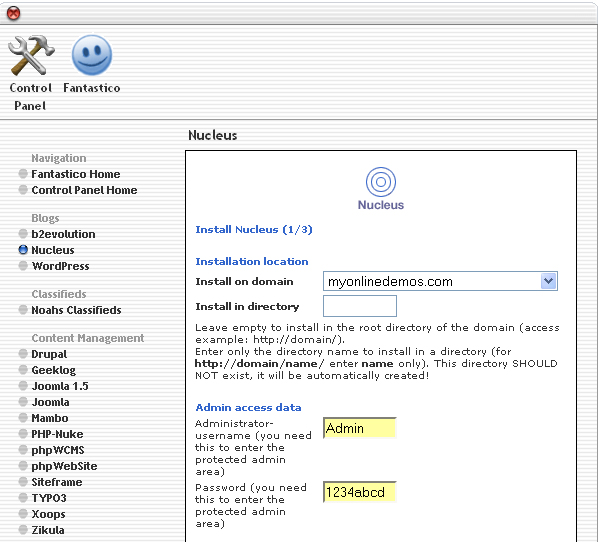 9. Enter your full name in the Admin full name text box. Your name will appear in every post that you will publish on your Nucleus blog.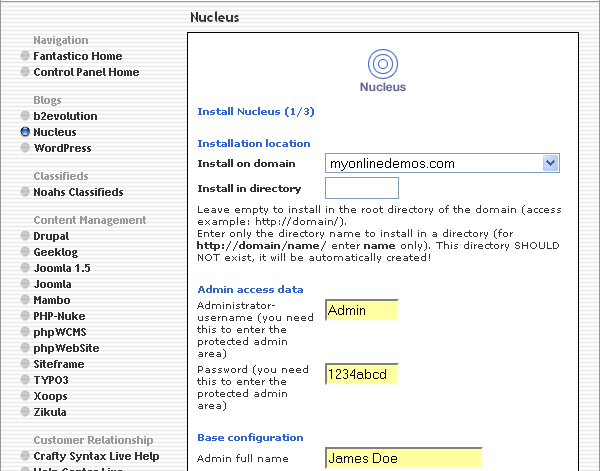 10. Enter an email address in the Admin-email text box. All Nucleus notifications will be sent to this email address.
11. Enter a name for your blog in the Blog name text box.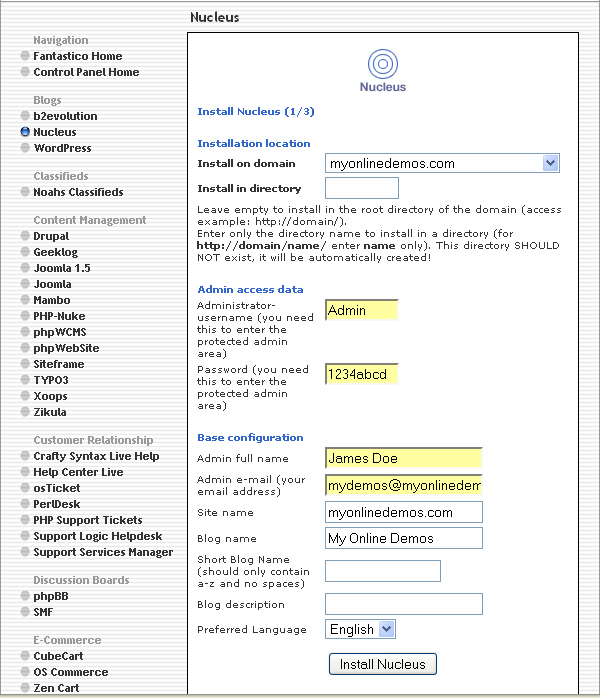 12. Enter a short blog name in the Short Blog name text box.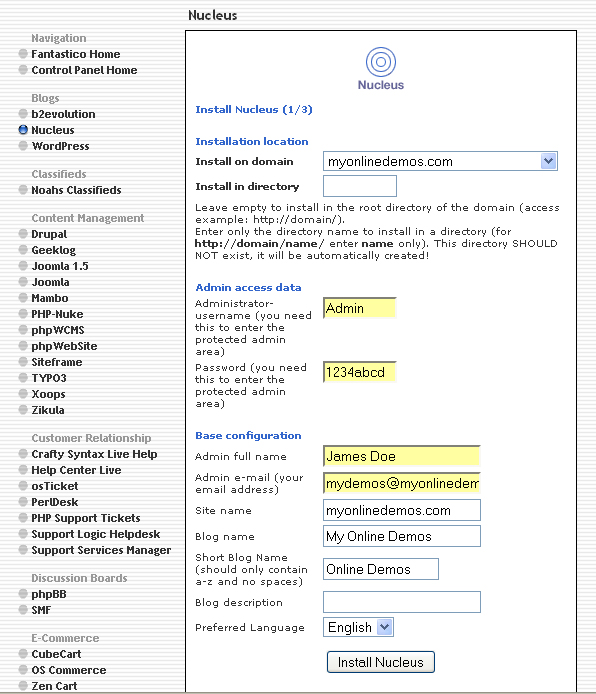 13. Enter a description for your blog in the Blog description text box.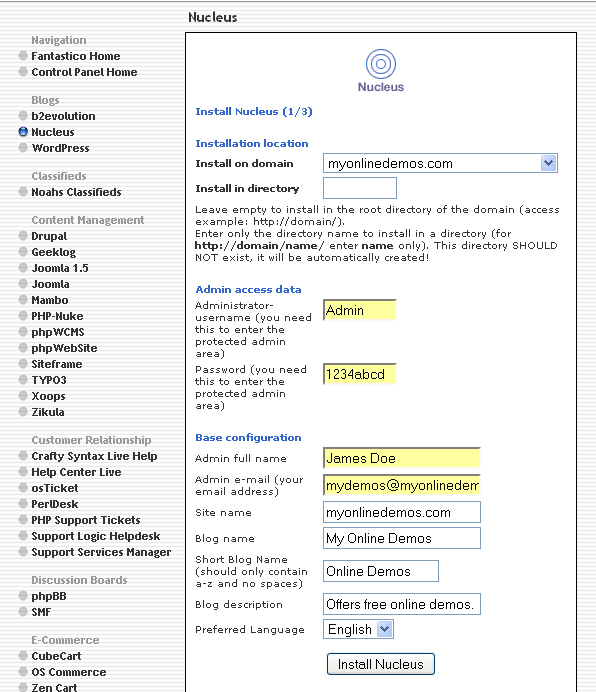 14. When you are done, click the Install Nucleus button.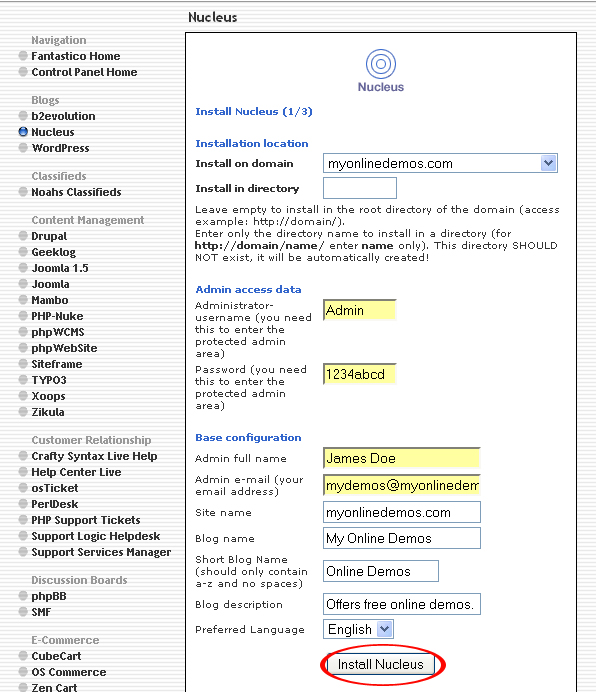 15. Click the Finish Installation button.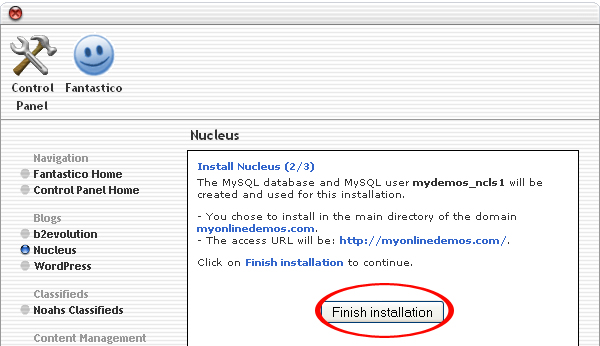 16. Nucleus is successfully installed. You can now login to the Nucleus admin area and start posting.
If you have followed the guidelines above, you will be able to install Nucleus on your website.
Filed Under: Computers & Technology
About the Author: Justin Belden is a freelance web & graphic designer with over 15 years' experience. He is also an Avid member of the Design/Development community and a Serial Blogger who loves to help people by sharing interesting and informative tips and trick related to computer and technology.
Comments (0)