By Jason Prickett on Sep 21, 2010 with Comments 0
---
Tile flooring provides a beautiful, long lasting floor you can easily maintain and clean. Larger tiles differ in the installation process from the more common small ceramic tiles. Typically this kind of home improvement project requires two people who understand the correct process. You can also contact a professional tiler dublin as Rd-tilingdecor to ensure that it's installed properly. Regardless of the process—and whether you use large or small tiles—you can create a dramatic change in your home's appearance with new tile installation.
Step 1
Make sure you start with a flat surface. You will need to level any bumps or humps before installing the tile; otherwise, your large tile will sustain damage more easily. Using a magnesium straight edge (available at your local hardware store) can help you find hidden bumps or holes on your floor.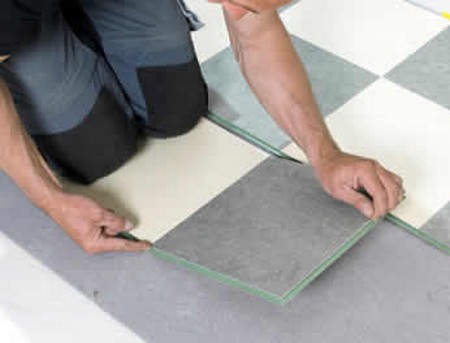 Step 2
Clean the floor. You will have to get rid of the dust, dirt and dry/moist areas of the floor on which you plan to install your large tiles.
Step 3
Measure out your floor carefully. Take your time. You will find it more difficult to cut larger tiles, so ensure you buy enough tiles to cover the surface at the outset. Remember to purchase extra tiles in case of damaged and improperly cut tiles as well.
Step 4
Lay out all your tiles. Know where you want to install your tiles before permanently setting them with the adhesive. This will also help you know the precise measurements when you cut your tiles. You may have to rent a wet-saw tile cutter to make your cuts.
Step 5
Cut your tiles. Since most tile cutters do not accommodate large ceramic tiles, you might find this step task-intensive. Using the wet-saw tile cutter, score the cut on the measured area, then run the saw along the scribed line. Smooth the edge with sandpaper if needed.
Step 6
Prepare your adhesive. You can use fast-drying thin-set adhesive when installing large tiles, which you can easily mix yourself.
Step 7
Lay down the tile. Apply the adhesive to the back of your large tiles and then lay them down. You may have to twist them to fit right into place and tap them down with a rubber mallet to ensure firm and secure work. Be precise when placing the tiles, as adjusting the larger tiles will prove difficult. Leave a 1/8-inch gap between each tile as well.
Step 8
Allow the adhesive to dry overnight.
Step 9
Grout the joints. Purchase grout that won't stain your tiles. Using a grout float, push the grout over the tile surfaces to the inter-tile joints. Fill them in completely. Wipe the tile's surface within 10 minutes of grouting with a damp cloth or sponge to remove excess grout. Wipe away all grout before it dries thoroughly.
Step 10
Apply a thin layer of tile and grout sealant to prevent any dirt or stains from getting into the grout and ruining the appearance your tiles. Do not initiate this step until all grout has thoroughly dried.
Filed Under: Home & Maintenance
About the Author: Jason Prickett loves to write about home maintenance and stuff you can do yourself instead of hiring any professional. His step by step guides will assist you in completing your home maintenance tasks.
Comments (0)