By Justin Belden on Jul 30, 2010 with Comments 0
---
You have just purchased a new LCD TV and you are still trying to decide where you want to place it. There are several options, such as TV stands and pedestals. Yet wall mounting an LCD TV is an increasingly popular way of storing TVs. Not only does it save space in your room by eliminating the need for TV stands, but it also eliminates the risk of the TV dominating the room.
An easy way to get your new LCD TV mounted on the wall is to ask a professional, preferably from the store you purchased the TV, to mount it for you. They are skilled in this area, as they are more than likely the ones to install them for the displays in store. However, this is not an affordable option, especially considering the fact that you just spent a large portion of your money on a brand new LCD TV.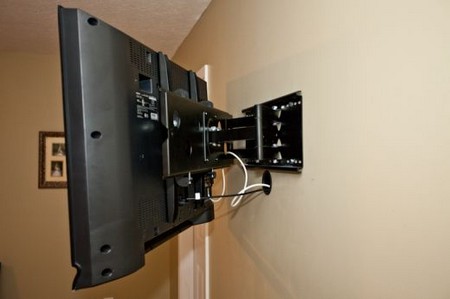 After you have finally figured out where you want your LCD TV to be mounted, you will need a stud finder. This is to ensure the wall mount stays safely hooked on the studs placed in the wall. This is absolutely necessary; the last thing you want is for the wall mount to hang unstably, thus putting you, your TV and any surrounding objects at risk. Not to mention, your wall would be a mess if not installed properly.
Once the markings have been made and the studs placed, screw the mount into the wall at as many points possible. The more points that are screwed in, the less weight goes into one single point and the more secure your TV will be. You are now ready to mount the TV onto the wall.
Once the TV is positioned into place, go ahead and plug it in. You will want to hide the cables, so you can either drill a hole in the wall and run them through or find some way on the outer part of the wall to hide them. Your local hardware store will have a variety of methods to hiding the unsightly cables.
You may be pretty sure of handling the wall mounting by yourself. But it is strongly advised that you have a friend or family member there with you, whether they are there to help hold the mount in place as you drill, or to simply exchange suggestions with. Or, you can even hire a tv mounting service professional who has the experience and expertise to get the job done right. Either way, having another person there with you will make the experience not only more fun, but safer as well.
Congratulations on learning how to install a wall mount for your new LCD TV! You did all the research about what type and size of TV you wanted and where to buy it. Now you can finally relax and enjoy your TV on the newly installed wall mount.
Filed Under: Computers & Technology
About the Author: Justin Belden is a freelance web & graphic designer with over 15 years' experience. He is also an Avid member of the Design/Development community and a Serial Blogger who loves to help people by sharing interesting and informative tips and trick related to computer and technology.
Comments (0)