By Jason Prickett on Aug 20, 2010 with Comments 0
---
Stop worrying if you have waited for a long time to know how to install the shower door. Here are the few simple steps that best tells you the whole idea of installing the shower door with it. It is always easy to install shower frameless doors easily with the below steps.
Procedure:
Things Needed:
Tape measure
Shower door kit
Caulk
Hacksaw
Grease pencil
Drill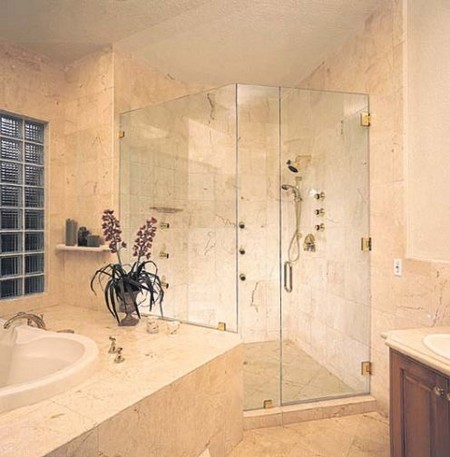 Level
Screwdriver
Masking tape
Measure from the wall towards wall at top and then bottom of shower. Write down larger of two numbers, this will be the width measurement. Then measure from top of shower base to top of shower for height. Then write down the number, this will be height measurement.
Purchase shower door. For shower which has no tub, most common types of door is hinged door, which will swing open, but also use the bi-fold door or sliding door. Be sure of purchasing a door with width and a height of greater or equal to numbers written in Step 1.
Prepare a shower for rails. Shower door comes with rail and jambs; use directions which came with door to keep them apart. Take the rails out and set jambs aside just for now. Then measure along top of base of shower from a wall to wall, then use hacksaw to cut bottom rail of 1/16 inches shorter than the measurement. Put rail in place, use masking tapes to hold them temporarily while using grease pencil for mark the location on shower base. Place adjustment rail on each sides of shower and using level to bring them in right position. While aligned, use grease pencil for marking your locations to drill using holes in rails. If there is a three hole groupings, then mark only larger two to drill. Use drill for making 3/16 inches hole and insert plastic anchors which came with door.
Apply a tub caulk to underside of bottom rail then place it on top of shower base by using markings made earlier. Install a strike jamb on wall closer to shower head and hinge jamb on opposite wall. Hinge jamb also must have door assembly piece which attaches to it. Rails fit in to jambs, so align jambs with holes you made then insert rails and line those holes also as well. Use drill or screwdriver to insert screws in to plastic anchors in wall. Have different screws to hinge jamb side then strike jamb side. Using directions which came with shower door to keep them apart.
Measure length of bottom of door frame then cut drip rail one inch shorter than measurement with a hacksaw. Cut vinyl sweep of same length, then slide it in to groove on bottom of drip rail.
Remove tape cover to attach drip rail on inside of bottom door frame. It must be of 1/8 inches from bottom and of ½ inches from side. Shower door must come with plastic plug which goes in drip rail preventing water to drain back in to shower. Pop plug in on opposite side of hinge side. Directions which come with shower door must also include diagram and instructions of installing plug.
Caulk around rail and jamb where they meet walls or shower such that water may not end up on bathroom floor. Apply medium thick layer of caulk. Let caulk dry according to directions on packaging or at overnight.
Use screw provided and attach shower door to door assembly piece on hinge jamb using screwdriver. Once door is attached, you are ready to use shower.
Filed Under: Home & Maintenance
About the Author: Jason Prickett loves to write about home maintenance and stuff you can do yourself instead of hiring any professional. His step by step guides will assist you in completing your home maintenance tasks.
Comments (0)