By Jason Prickett on Aug 11, 2010 with Comments 0
---
Handrail is an important thing while considering a home with stairs. It helps you in protecting yourself while walking in stairs from slipping down, and things. It is very important to protect your stairs with the help of handrail. You can't take care of yourself while walking in stair cases all the time. You have many jobs to do and you don't have time to take good care of it for the whole day.
Hence to protect yourself in stairs you must provide handrail to them. It will do the protection job when you are walking in your home. The handrail should be linked in order to give the full protection. If there is no full chain link in the handrail, then there is a chance for slipping down and ruin you all of a sudden. Many people think that this process needs a lot of money to safeguard their stairs. Actually this is not the case, at handrails Melbourne there are many ways to save your money.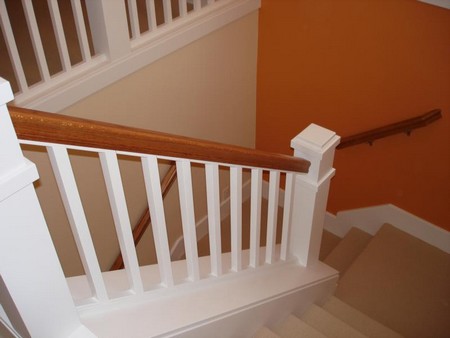 Handrail helps you in giving a support while walking in stair cases. This is more helpful to the old people while walking in them. It will give some support to you while walking in them safely. It will like some other person who helps you in holding you in stairs. It is very much used as a supporting material and your stair cases definitely need them. It doesn't take more time to install a new handrail to your stairs and it is also not a costly process to do that.
First of all, measure the distance of your stair cases. This will help you in getting a perfect handrail for your stairs. Many people use 36 inches size handrails usually. You should also take care of handrail and mounting brackets before installing them.
After getting the correct measurement of your stair cases, you can just make marks at both the top and bottom position of your stairs and you can make use of chalk pieces to mark them. You can find some studs in between and stud finder marker helps you in marking the locations with studs of your mounting. Generally you will require one at the middle, bottom and top positions of your handrail.
Actually length of the handrail plays a major role and other things are fully dependent on it. Then you can mark the mounting bracket's position with the help of chalk. Then you need to make holes to insert them at correct positions and make holes using pilot holes in the studs by making use of a drilling machine. Place the mounting brackets in their position and now you are ready to place your handrail at the correct place.
Filed Under: Home & Maintenance
About the Author: Jason Prickett loves to write about home maintenance and stuff you can do yourself instead of hiring any professional. His step by step guides will assist you in completing your home maintenance tasks.
Comments (0)