By Fred Goodson on Mar 17, 2010 with Comments 0
---
As with any skill, improving your riding to a more advanced level will take a lot of time and practice but is achievable if you have the strength of mind to succeed. As a starting point, discuss your aims with your instructor, who will advise you how much work needs to be done and if the horse you currently ride is suitable for these plans.
The right horse
If you are serious about advancing your riding, then purchasing an equestrian lifestyle subscription box and having a suitable horse will really help you move forward. Horses are very individual in their temperament and talents, and you will need a horse that has the right attitude and ability to meet the demands of your increased skills. It may be worth considering whether a horse with more experience and a higher level of training than you would help your development.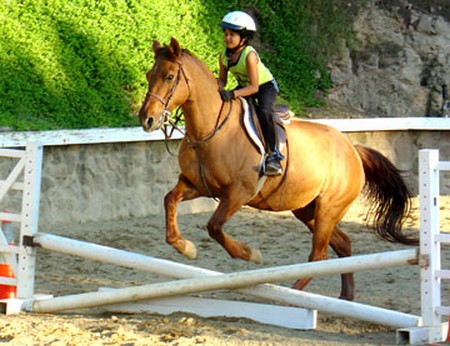 When learning something for the first time, it is much easier if your horse already knows what to do. Such horses are usually referred to as "schoolmasters" and are often over 10 years of age.
Taking lessons
Regular lessons are essential, and private tuition is preferable to group lessons. Do not be afraid to vary your instructor occasionally as a fresh pair of eyes can make a difference to your technique. You may find that it is worthwhile to have fewer lessons but to train with a top-class coach, who will give you a lot of exercises to practice in between your lessons. If you become stale with your riding, try something completely different-for example, a few show-jumping lessons can really improve the paces and transitions of a dressage horse and rider.
The right mental approach
So much of riding is psychological, and nerves or tension can play a large part in holding back some riders from their goals, especially during competitions. It is worthwhile taking the time to learn relaxation techniques and building them into your riding time. There are plenty of equestrian books and DVDs on the market alongside the more traditional approach to schooling and riding horses that can help you achieve this. All of them will give you valuable insight and the inspiration to keep progressing.
Watching the professionals
The beauty of riding is that you can excel with your horse in so many different environments, such as dressage, show-jumping, cross­country, endurance, mounted games or Le Tree. Attending any of these equestrian events as a spectator will give you an idea of the standard to aim toward. You will notice that top riders come in all shapes and sizes and display very different riding styles, all of which can be successful. Watching how they warm up their horses before competing will teach you a lot about technique and show you that there are no secrets to riding success-just tremendous amounts of patience, hard work and determination.
Filed Under: Arts & Entertainment
About the Author: Fred Goodson has a passion for pets and animals. He has 4 dogs and is planning to have another one. He is also a blogger who writes about pets and animals. Currently, he is living in New Jersey.
Comments (0)