By Marie Mayle on Mar 17, 2010 with Comments 0
---
In order to sell something, whether it is a product or a service, a certain degree of skill in communication is required. There are other methods of communication which are relevant in business.
Spoken
Spoken communication does not only apply to the selling situation, but is necessary for discussions with all sorts of people -potential customers, suppliers, reps, professional advisers, etc. These can be either face to face or via the telephone. The ability to be fluent and comprehensible, particularly on the telephone, is a skill to be developed.
One way of doing this is to record yourself on tape – if possible doing a real telephone call. When listening to it afterwards, do not think in general terms of how good and bad it is, but try to analyze: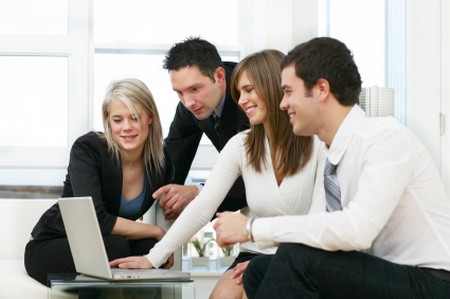 whether all the words can be clearly heard
whether you say a lot of 'urns' and 'ers'
whether you repeat yourself too much
whether your voice sounds pleasant and friendly (try smiling down the phone)
You need not be afraid of recording the other person, because that voice will not be heard on your tape.
Written
Written communication is necessary in a number of areas -emails, letters, estimates, quotations, invoices, etc. Your business communications must go out without spelling, grammar and punctuation mistakes. If you know you are weak in this area, use the services of someone who knows what they are doing. You will probably not have the time at this stage to improve your own English language skills. If you only need to brush up on your written English, try English Language Skills by Vera Hughes, published by Greenwich Exchange.
Presentation of written communication is almost as important as the content, because the way written material is laid out reflects your business image.
Pilot scheme
Before committing yourself too deeply to your prospective business, it is quite a good idea to 'test the water'. If it is possible, create a sample batch of your product, and embark on a selling exercise to test the reaction of potential buyers or outlets.
Try to gather as much useful information as possible during this exercise – pluses and minuses, assessing the strengths and weaknesses of what you have to offer, and the way in which you are presenting it.
To do this exercise when you are offering a service is a little more difficult, since what you have to offer is not as tangible as an actual product. Perhaps you could offer to provide a sample of your service at a very advantageous price in order to test the response of potential clients.
Getting your business off the ground will often take a lot longer than you thought. There is a great deal to do in the early stages, and sometimes there are delays beyond your control. To minimize delay, invest time at these very early stages in learning how to do the research, the marketing and the selling in the most time- and cost-effective way.
Filed Under: Uncategorized
About the Author: Marie Mayle is a contributor to the MegaHowTo team, writer, and entrepreneur based in California USA. She holds a degree in Business Administration. She loves to write about business and finance issues and how to tackle them.
Comments (0)