By Jason Prickett on Jul 30, 2010 with Comments 0
---
If somebody were to ask me about the best room in house apart from my bedroom, my answer would d definitely be the Living Room. It is the most important room contributing to make a house an actual home. The living room is not only the single most used area but also the one where all family members can spend quality time together just sit back and enjoy. But, unfortunately, with the high prices and changing trends in the Real Estate, living rooms in homes are getting smaller day by day.
The first step towards setting up your living room should be that of selecting a nice decoration theme that is original and reflects your personality and taste. Many a times prospective house owners go through interior magazines or pick up ideas from showrooms or the television without keeping in mind the size and dimensions of their  living room. Furthermore, it is often a decision to seek professional help from an interior design specialist. The idea may seem expensive but at the end you will actually get to know that it has been a good investment as designers usually help one narrow down ideas from among a pool that are just right for you and your room.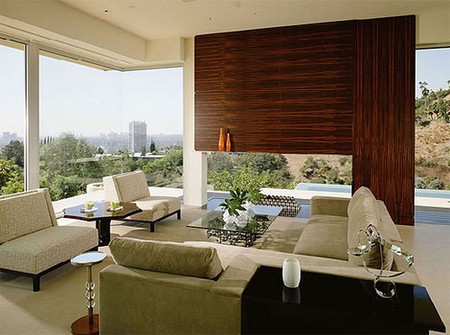 Secondly, to make your living room appear big and open, choose colors and draperies sensibly and do not forget to move out any pieces of furniture or any other items that seem to be present in the room without any actual use. When talking about colors, it is often said that the use of light and neutral shades like those present in nature i.e. whites, creams or natural green and blue hues tend to give an airy feel to the room and make It look wide open, whereas, darker tones promote a cozy feel but at the same time makes the room look stuffy and caved in so, definitely go for a palette that is the basis of nature.
When moving on to the selection of furniture, choose very wisely as you already know that there is not enough space in your living room. Instead of picking up any settee sets and coffee tables that are grand and huge, look for geometric shapes that would easily blend in with the dimensions of the room and at the same time give an ultra-chic or modern look. In case, if you want reset your already set up furniture, break up you sofa set. Leave in the couch whereas the armchairs and single seats can be placed elsewhere in the house in some bedroom or in the patio. The television and the audio system should also be put in way that the room does not look cluttered.
In a nut shell, decorating your living room all depends on your imagination and creativity as the space cannot be changed but the look and feel of your room definitely can!
Filed Under: Home & Maintenance
About the Author: Jason Prickett loves to write about home maintenance and stuff you can do yourself instead of hiring any professional. His step by step guides will assist you in completing your home maintenance tasks.
Comments (0)