By Alan Kennon on May 20, 2010 with Comments 0
---
Without a doubt the Rolex brand speaks to luxury. It is synonymous with the most sought after time pieces made period. Because of the prestige attached, Rolex watches are replicates and counterfeited. Buyers who are thinking they are purchasing a genuine Rolex time piece can be swindled by the appearance some on the replicas available in the marketplace. Even quality fake Rolexes can be sold for a nice profit. These types are harder to identify as fake. There are ways to tell the Rolexes from the replicas. Here are some simple ways to ensure your Rolex Oyster Perpetual is genuine.
Procedure:
Step 1
Turn the Perpetual Oyster Rolex time piece face down. Carefully inspect the casing on the back of the time piece. The case itself should not be marked, inscribed or engraved in any way. Authentic Perpetual Oyster Rolex time pieces are solid stainless steel or gold. A replica may have a Rolex logo engraved on the back. Some feature a backing that is clear and transparent. This is not an authentic feature.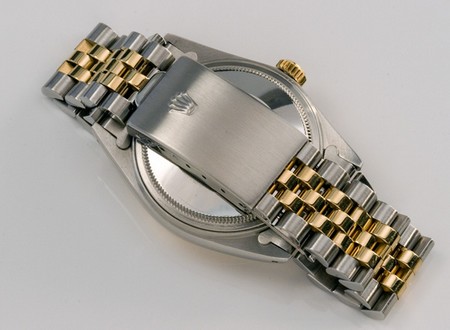 Step 2
A new Perpetual Oyster Rolex time piece will feature a hologram sticker. The sticker is located on the back of the case on the watch. The hologram sticker is 3D and features the signature Rolex crown in the center. There is a reference number below the crown. Even if your watch has a sticker, make sure it is a hologram version with a crown and a reference number. Replicas don't have either.
Step 3
Genuine Rolex Oyster Perpetual Watches have a date right at the 3 O'clock position. There is a crystal magnification feature that covers the date of the month to magnify it, making it easier to read for it's wearer. The magnification is 2.5 times the size. Replicas don't magnify that larger. At best the magnification is 1.5 or lower.
Step 4
The Rolex bracelet (watch band) is comprised of individual links set together. The bracelet is attached to the face with pins. All Rolex links are either stainless steel or gold in composition. A replica of a Rolex will not be as smooth as a genuine Rolex. The links will have detectable sharper edges to the touch.
Step 5
The Rolex company began to start a unique etching of the signature crown in all of their time pieces in 2002. Every time piece manufactured after 2004 features this etching. The etching can be seen easily by placing a magnifying glass over the 6 o'clock position on the face of the watch.  Replicas may not have this feature at all. If it is featured the crown will not be as well done as a genuine Rolex.
Filed Under: Lifestyle & Personality
About the Author: Alan Kennon lives a very happy life with two kids and a lovely wife. He likes to share his life time experiences with others about how they can improve their lifestyle and personality.
Comments (0)