By Alan Kennon on May 20, 2010 with Comments 0
---
Tea parties have a long history of being an upscale way for women to socialize. Tea parties are easy to arrange and can be used for any purpose. You can turn your next social gathering into a traditional tea party. Bridal showers, social networking gatherings, Avon parties, business meetings can all be turned into a traditional tea party. They are lots of fun and flexible.
Step 1
Choose your traditional tea party location. The location chosen is very important. It will set the tone and atmosphere of the gathering. Great ideas for location include holding it at a private residence, or a small restaurant. Restaurants have rooms that can be rented out and made private. Depending on the weather and the season, a tea party can even be help outside in the sunshine and warmth. Gardens, gazebos and backyards are all good places for a traditional tea party.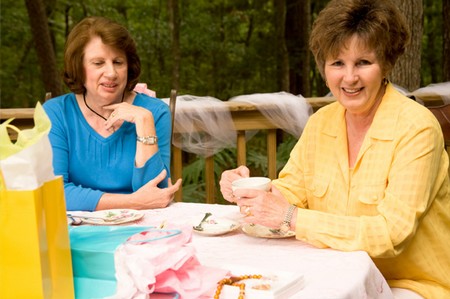 Step 2
Invite your friends and family. Send out your formal traditional tea party invitations at least 2 weeks in advance. Take the time to personalize each invitation to let everyone know how special they are. You can an embossed card and have Kinkos print names on each one. Hallmark also offers beautiful card options that may be a little less cost. These sets of 5-10 cards also come with envelopes and a space to fill in the black in order to still offer some level of customization.
Step 3
Decorate your venue. Tea parties are know for the rich atmosphere, intimacy and sophisticated femininity. Decorate the venue with vintage style white lace and silk linens. You can add real or silk flower arrangements to the tables. Tea roses, baby's breath and greenery can liven up your venue. Bring your finest china and silverware to the event. Your tea kettle should be a centerpiece all by itself. Don't be afraid to use your best. Your guests will all e impressed.
Step 4
Have a variety of tea available for your friends and family or business associates. There are so may different teas available it can be hard to narrow down choices. Green, Earl Grey, Darjeeling and fruit flavored teas are very popular. You can order your tea from specialty outlets online or some grocery stores.
Step 5
You need to serve a light snack with your tea. Opt for finger sandwiches. They are easy to make, require very little effort and are not messy to consume. You can also serve fresh vegetable with dip. But for a more authentic experience, scones and clotted cream are best. Sweets always seem to go better with tea.
Step 6
Serve cake with tea. If you don't have your favorite cake, substitute with cupcakes.
Step 7
Thank you guests for coming by gifting bags filled with a variety of sweets such as a sterling silver spoon as a keep sake, tea packs and petit fours.
Filed Under: Lifestyle & Personality
About the Author: Alan Kennon lives a very happy life with two kids and a lovely wife. He likes to share his life time experiences with others about how they can improve their lifestyle and personality.
Comments (0)