By Andrew Reinert on Apr 08, 2010 with Comments 0
---
When a patient is discharged from hospital into the home, you will need information on a number of points in order to assess his condition and estimate how much and what sort of care he needs.
How much activity may he undertake?
How much rest should he have?
Are there medicines to be given?
Are there arrangements for dressings to be changed or stitches removed?
Has he an outpatient appointment?
When may he return to work?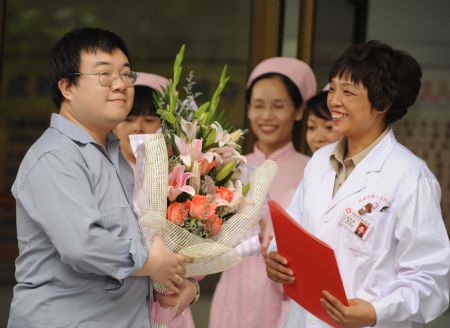 It is a great temptation for a patient to think that, once he is home, he is absolutely fit and can do anything. The housewife particularly tends to come home and take over the household duties at once. In fact, the newly discharged patient tires easily, as he is always much weaker than he sus­pected when pottering round the ward. In spite of his eagerness to get home, he is often restless and depressed, finding it hard to settle down. He may be missing the security of the hospital ward. Tolerance and understanding help the patient through this phase of recovery.
All convalescent patients, irrespective of age, should be encouraged to rest for at least an hour every afternoon, preferably on the bed where they can really relax. To allow for enough rest, domestic help may be needed. If members of the family cannot provide this, private help or a home help should be suggested. The Social Services Department provide a home help service where it is needed, with the patient paying according to his income.
All patients need to take exercise, and the doctor will guide you about the amount. Plenty of fluids and an interesting diet appetizingly served will also promote recovery. The patient may need help with shopping and the provision of meals. Neighbours, the home help and young people in voluntary organizations are often willing to help with the shopping, while the Meals on Wheels service may be able to provide a midday meal.
Your nursing care and the advice you give will obviously depend on the patient's condition. The patient recovering from an abdominal operation, for instance, should avoid lifting and carrying. Certain patients have special needs. These may be practical, psychological or both. If the patient has had an operation such as a mastectomy, for instance, she will need practical help in choosing a suitable prosthesis but above all she will be in need of psychological support. Any operation that involves removal of a part of the body destroys self-image and is emotionally distressing. You will need to be sensitive to the feelings of these patients.
If a treatment such as a dressing or injection is required, the community nursing sister will visit. She will tell the family if there is any equipment she would, like provided for her use. If a patient is being discharged from hospital at a weekend or bank holiday, it is essential to make sure that the hospital' provides an adequate number of dressings for the patient's use until a prescription can be obtained from the doctor and dispensed by the chemist.
Filed Under: Health & Personal Care
About the Author: Andrew Reinert is a health care professional who loves to share different tips on health and personal care. He is a regular contributor to MegaHowTo and lives in Canada.
Comments (0)