By Andrew Reinert on Aug 03, 2010 with Comments 0
---
Summer is a sunburn time. The effects of sunburn are, it makes the skin reddish and it also makes the skin hyper- sensitive. Sunburn may bring blisters to the skin and it also gives a sort of pain when touched. Sunburn is caused due to the overexposure of the unprotected skin. Exposure of skin to the ultraviolet radiation of the sun causes sunburn. Sunburn happens when people lye straightly under the hot sun and it also happens when people enjoy roaming under the hot sun during summer season. Long exposure of unprotected skin in the sun is the main cause of sunburn.
Are you affected by sunburn? Are you looking for the treatments and remedies for sunburn? Here are some of the recommended methods by which you can get cured from sunburn effortlessly.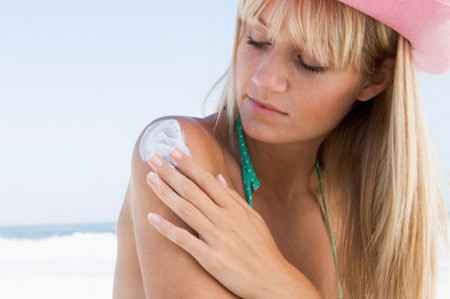 Aloe vera is one of the most popular treatments for curing sunburn. Aloe vera cream or any ointment that contains the ingredients of aloe vera is a medicine for treating sunburn. The effect of aloe vera will last only for some time. Your sunburn problem will be solved easily if you are having an aloe vera plant. Break and open the aloe vera leaf and squeeze its gel out and apply the gel over the affected skin. It will give an immediate effect over the skin. Aloe vera gel smooths the affected skin. If you apply the aloe vera gel continuously it will help in moisturizing and protecting your skin from sunburn.
Water therapy is also one of the best ways to cure sunburn. Drink more water every day. Especially during summer days our body requires a large amount of water. Drinking alcohol may increase the propensity to become dehydrated. Eat well to become strong physically. Drinking more water and having a good diet will help you a lot in maintaining your body cool during summer season and this will heal sunburn naturally.
Taking a cool bath during hot season will help in maintaining your body temperature cool. It helps in reducing the skin heat. Avoid taking bath in hot water during hot seasons. If you take bath in hot water, your body temperature will increase further. So, if you take cool bath you will feel comfortable. You will feel much better when you soak yourself in a bathing tub. Do not apply soap over the burned skin areas. Do not remove the oil which is produced naturally by the skin. The natural oil produced by your skin will help you a lot in healing the sunburn. After taking bath wear a loose dress. Wearing cotton dresses during summer is more preferable.
Calamine lotion will help a lot in protecting our skin when your skin starts to peel. When your skin peels, it will give itching. Applying calamine lotion will help in reducing the itchiness. You can also apply some moisturizer to make your skin moisture and can also rehydrate the skin. Avoid scratching your skin because frequent scratching of the skin will damage the skin. So, protect your skin by applying sunscreen whenever you go outside. This will really help you do better.
Filed Under: Health & Personal Care
About the Author: Andrew Reinert is a health care professional who loves to share different tips on health and personal care. He is a regular contributor to MegaHowTo and lives in Canada.
Comments (0)