By Arthur Kunkle on Sep 17, 2010 with Comments 0
---
Do you like bell peppers? These peppers are a great vegetable to grow, even for beginners. These little veggies are indigenous to North and Central America. The green pepper is actually a pepper that has not ripened. When it has ripened, it will have turned colors to a bright red. The texture changes with maturation, the flavor intensifies and it adds a different element to any recipe. Here is how you can grow bell peppers with a few easy instructions. Continue reading for more details.
Instructions
Items You Will Need:
Fertilizer
Garden
Pesticide (organic)
Water
Bell Pepper Seedlings (or seed)
Mulch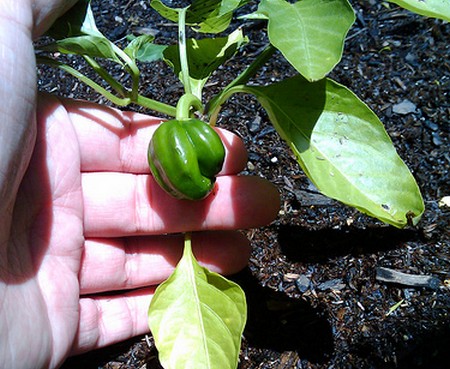 Step 1
Plant the bell pepper seeds about 8 weeks prior to the finalfrost. Do this inside with a pot. The pot needs to measure a minimum of two inches.
Step 2
Fertilize the area and add some manure and compost as well.
Step 3
Move the  bell pepper seedlings outside after the frost is over. If the weather is still not yet warm enough, then do not transfer or several days. You need the ground to be in the range of 70 to 85 degrees in order to put them in the ground.
Step 4
Separate the pepper seedling about 18 to 24 inches apart. Place them in rows that measure 24 to 36 inches apart. Spacing is likely to change. This will depend on the type of pepper you are growing.
Step 5
The bell pepper plants need water on a regular basis. When the weather is hot make sure the soil down not dry out. When peppers are not watered sufficiently, the results are a bitter pepper.
Step 6
Use mulch to help the peppers. It well keep the weeds from taking over and lock in liquid.
Step 7
Pick the bell pepper when they get to a medium size. Some peppers a can be picked when green. When the pepper is actually mature it will be purple, red, green, yellow or orange. The color depends on what kind you are growing.
Step 8
These peppers will grow right up to the time the frost comes in. Cut the fruits off the vine. Do not pull them off to disconnect them.
Suggestions
When you are planting bell peppers using seeds, they will germinate at 6-8 days.
When the bell peppers grow use fertilizer for each plant. It needs to be placed 6 inches from the stem and water. Doing this will increase your yield and improve the quality of peppers.
These bell peppers will keep for 3 weeks if they are kept at 45 to 55 degrees at a high humidity.
Further Readings:
Filed Under: General How To's
About the Author: Greenery always attracts Arthur Kunkle. He has a big garden where he plants many fruits and vegetables. His passion for gardening motivates him to write and share different tips on gardening.
Comments (0)