By Arthur Kunkle on May 24, 2010 with Comments 0
---
The flowering Dogwood tree (cornus florida) is a round tree with a small trunk. It's round in shape and is quite a beauty to look at. During the Spring months, the delicate white or pink blossoms bud and they  will bloom for 2-3 weeks. In Fall, the Dogwood tree grows clusters of red berries. These berries are eating by birds as an important source of food. If you a limited amount of gardening space, then you can plant your Dogwood tree in a pot of container. The potted Dogwood tree require extra care. The end results make the effort worthwhile. Here's how to grow a Dogwood tree in a pot.
Procedure:
Things You'll Need:
Dogwood tree
Sturdy container with drainage hole
Commercial potting mixture
Water-based fertilizer or time-release fertilizer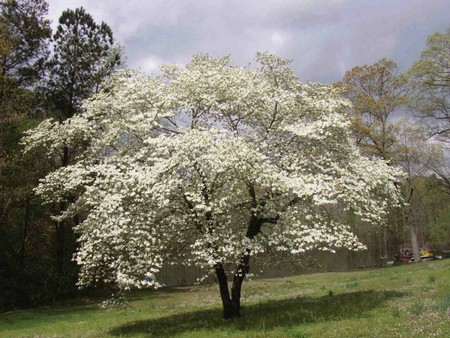 Step 1
Visit your favorite nursery of greenhouse. Choose a small type of Dogwood. Ask the staff at the nursery or greenhouse for a Dogwood that can grown the size you need it and one that can bloom well in your climate.
Step 2
You'll need to select you pot. Choose a wide pot that is heavy and can withstand some wind. Clay pots are a good choice. Terracotta also works.
Step 3
Choose a good soil. Fill your sturdy pot 1/3 full with you soil. Remove the Dogwood tree from the container it came in. Place the Dogwood tree on top of the soil. Fill the point with the same depth of soil the Dogwood tree came in. Add as much soil to bottom as needed to bring the soil levels up.
Step 4
While adding more soil to the potted tree, press the soil gently around the tree roots. Leave 1-2 inches of space in the pot to allow for water.
Step 5
The Dogwood tree will need sun light but not extreme sunlight. Place the tree where it will have some exposure to the sun during the morning and protected from the sun in the afternoons. Dogwoods that grow on colder weather can withstand more sunlight exposure. When the weather is hot it is important to shield the Dogwood tree from the sun.
Step 6
Make sure to give the Dogwood tree water right after re planting. The soil should be moist all the time. But don't over water it. Potted tress can dry out fast, so keep a close watch on the soil. When the weather is hottest this becomes vital.
Step 7
Keep your Dogwood tree well fed. You can do this two ways. During the warm months, use a water based fertilizer, or you can use a time released fertilizer every 90 days.
Filed Under: Uncategorized
About the Author: Greenery always attracts Arthur Kunkle. He has a big garden where he plants many fruits and vegetables. His passion for gardening motivates him to write and share different tips on gardening.
Comments (0)