By Leona Kesler on Mar 12, 2018 with Comments 0
---
Grilled Ribs make for an interesting and tasting delicacy.  Though grilled pork ribs are tasty, there are some people who are apprehensive about preparing this dish, because they think that it is not an easy job. The truth is it is not just easy but also fun to grill pork ribs. Here is information about how to grill pork ribs easily:
Procedure:
Your first job is to make sure that the ribs are totally clean. For this, sear the ribs in oil on the stove.  You may use olive oil or vegetable oil for doing this. Put some oil in the pan and let it heat on medium heat, for some time. Sear the ribs for ten minutes or so with the fleshy side facing the pan, till it becomes brown.
Refrain from cooking ribs over direct heat; instead cook them over medium heat(235 to 240 degrees) through indirect cooking. If you cook directly, the meat will burn out and the taste won't be exactly pleasing. The indirect method of cooking or grilling will slowly cook the meat.
Do not put the ribs on the grill till it has reached the temperature of 235 to 240 degrees.  Once it does, grill the ribs with the fleshy side facing up. The duration of cooking can be anywhere between 1 and a half hour to 2 hours.
While the ribs are being grilled, baste the ribs with apple cider or lime juice. This will not only make the meat soft but also add a distinct flavor to the meat when it is being grilled.
Add sauce if you wish to.  This will enhance the flavor of the grilled ribs.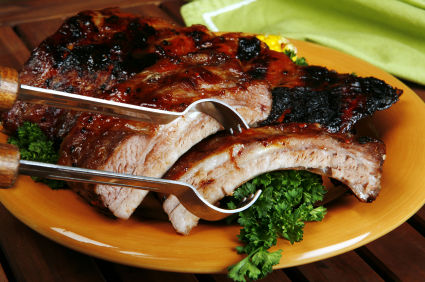 Some tips for making tasty, grilled pork ribs:
Apply some 'dry rub' to the ribs before grilling. Dry rub means flavoring your meat with spices and herbs.  To do so make sure you rinse the ribs thoroughly. Once the rinsing part is done, apply the dry rub to the meat. You should choose to refrigerate the pork meat for two hours after the dry rub.
How do you know if the ribs are fully cooked? Try flaking off the meat with a fork. If the meat flakes, you know that the ribs are fully cooked.
Remember, you can enhance the flavor of your grilled pork rubs by dry rubbing with spices and herbs, adding cider juice or lemon and finally serving with yummy sauce.
Filed Under: Food & Cooking
About the Author: Leona Kesler is a head-chef at a very popular food restaurant in New York. Also she is a blogger who shares her experiences, tips, and other informative details about food and cooking. Her recipes are featured on many magazines.
Comments (0)