By Leona Kesler on Feb 15, 2018 with Comments 0
---
Step 1
The first step in this tutorial is to rinse the skin on, bone in parts of the chicken underneath cold or cool water. Pat them until they are dry using one or two paper towels and then simply put some salt and pepper on them (this is called seasoning). Another thing you can do is rub down the pieces lightly using only a tiny amount of your finest olive oil.
Step 2
Now you will have to prepare a bed of coals if you are using a charcoal grille, or turn on your gas griller onto a medium or high heat. Make sure that if you are using a charcoal grill to make the bed of coals medium hot, otherwise the chicken will burn. Now clean your hot grill grate by brushing it using a wire brush (preferably a stiff one). Coat the grill using a tiny amount of olive oil by using a pair of tongs to grab a towel and brush it down. Make sure that the towel is expendable as it will be only good for this purpose once you are done with it.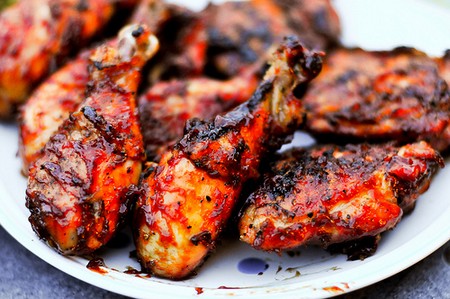 Step 3
Step 3 is to put the pieces of chicken onto the grill (make sure you put them skinless side up) and then let them cook for 30 minutes. Make sure to leave them uncovered and then turn them a couple of times. You will know that they are done once the skin turns a golden brown color and the meat is thoroughly cooked through otherwise it poses a serious health risk. Uncooked chicken causes salmonella, which is a deadly disease.
Step 4
The second last step is to brush some barbecue sauce on the top of the chicken pieces. Don't do this for at least 20 minutes because if you add it any earlier you will cause all of your chicken to burn to a crisp. If it comes to your attention that the chicken that you have brushed with sauce is beginning to char simply move it to another, cooler part of your gas or charcoal grill.
Step 5
Step 5 is the last and the easiest step. All you have to do is check that the chicken has finished cooking by cutting open your chicken, all the way into the middle. If your chicken is fully cooked then the juices will run clear after you have cut through the thicker part of your piece of chicken. Again, salmonella is dangerous so make sure it is fully cooked through before serving.
Filed Under: Food & Cooking
About the Author: Leona Kesler is a head-chef at a very popular food restaurant in New York. Also she is a blogger who shares her experiences, tips, and other informative details about food and cooking. Her recipes are featured on many magazines.
Comments (0)