By Roberta Southworth on Apr 17, 2010 with Comments 0
---
Bath time can be such fun for you and your baby; a time for loving physical contact, a time when your baby can relax in the comforting warmth of the water. But it can also be a time for tears, especially when your baby feels insecure and frightened. Therefore, you may also want to provide your baby the unique baby hampers like the newborn baby hampers in Sydney which are full of things that the parents can use every day, from bath toys to toiletries.
Look at it from her point of view—it is hardly surprising that bath time might cause your baby to feel terror rather than pleasure. The removal of clothes may increase her sense of vul­nerability, the slippery surface of the bath may make her feel unsettled and afraid, the splashing of the water on her body may surprise her, and the soap in her eyes during hair washing may be distinctly unpleasant, even painful. So, try to remove as many barriers to an enjoyable bath time as possible.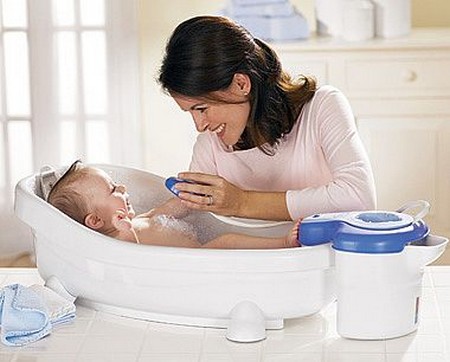 First, try to make bath time a relaxed event, one in which you don't rush. Smile and appear relaxed to create a happy atmosphere for your baby. Second, undress your baby slowly, and put her into the water slowly and gently, so that she has time to adjust to the new situation. And smile and talk to her during this routine—the more pleasant the routine becomes, the better. Third, do your best to avoid getting any soap or water into your baby's eyes. Some parents use a splash-guard shield that fits over the baby's head, allowing hair to be thoroughly washed without the risk of water and soap trickling into her eyes; but some babies find this appliance uncomfortable. Certainly, you should wash your baby's hair from the front of her head toward the back. Last, have bath toys with which you and your baby can play. She'll love playing with floating plastic bath toys for 1 year old as she sits in her bath.
If you find that your baby is agitated about bath time despite all your efforts to calm her, gently persist. Use very lit­tle water in the bath, minimize the possibility of splashing, and constantly reassure her. In addition, you may want to consider a very gradual introduction to bath time; for example, use a very small sink or even hold her in your arms and wash her with a damp sponge. Once your baby is more comfortable, you can then slowly move her to a bath with water.
Filed Under: Family & Relationships
About the Author: Roberta Southworth is a psychiatrist by profession. She likes to help out people by writing informative tips on how people can to solve their family and relationship issues. She is currently staying in Ireland. She has 5 years of couple counseling experience.
Comments (0)