By Roberta Southworth on Apr 17, 2010 with Comments 0
---
Sometimes a meal can be unattractive to a child, even though his parents find it very appetizing. That's because eating isn't just about the quality of food—it's also about the way the child perceives the eating experience. Pause for a moment to consider how the meal looks from your child's side of the table or high chair. The world looks different when you are only three years old and thirty inches high. Ask yourself the following questions:
Q. Is my child seated comfortably?
A. Most children can find a comfortable sitting position in a high chair because it has been specifically designed for their body length, bottom size, and length of reach. When your tod­dler makes the transition to the family dinner table, the chairs are designed for an adult's bottom size, height, and length of reach. Place a small cushion (or telephone directory) on your child's chair to raise his height; and bring his plate nearer to the edge of the table so that he can reach it easily.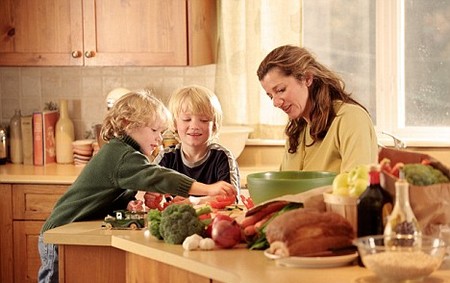 Q. Are my child's eating utensils the right size?
A. Try eating a main course using a garden fork and trowel instead of a regular fork and a spoon. Difficult, isn't it? That's the struggle facing a young child who is expected to use adult-sized eating utensils. Using inconveniently sized knife, fork, and spoon won't speed up the rate at which your child learns to use those utensils—if anything, it will slow him down.
Q. What sized portions am I giving my child?
A. Your child has a smaller stomach than an adult, and there­fore, he doesn't eat as much. An adult's portion of mashed pota­toes can seem like Mount Everest to him, and a bowl of stew like the Atlantic Ocean. Putting too much on the plate may put your child off his food before he even lifts his fork. Small por­tions are best—you can always give your child seconds if he clears the first plateful.
Q. Is the food at the right temperature?
A. Most adults like food to be piping hot. They are capable of managing such temperatures. They blow on the food, or take a very small amount to start, or simply wait until it cools down. Your child may not be as confident and may be afraid of burn­ing himself. He prefers warm food that can be placed into his mouth without concern about possible injury.
Q. What does it taste like?
A. Everybody is sensitive to five kinds of taste—sweet, sour, bit­ter, salty, and spicy. Our sensitivity to each of these varies with age. While most adults enjoy the sharp taste of olives and pick­les, children rarely do. The flavoring that you enjoy may not suit your child. So, cook the food first, and then add spices, sea­sonings, salt, and pepper to each portion individually.
Q – Is the texture pleasant?
A. Children vomit more easily than adults. Food that is too dry can stick to a child's upper palate and make him sick. This action is involuntary. It's not a trick to avoid eating. Greasy food can have the same effect, and chewy meat can be very unpalatable. Avoid textures that your child doesn't like.
Taking these factors into account will give you insight into the way your child views eating. Remember, the more palatable the meal is from your child's perspective (not yours), the more likely he is to eat healthfully.
Filed Under: Family & Relationships
About the Author: Roberta Southworth is a psychiatrist by profession. She likes to help out people by writing informative tips on how people can to solve their family and relationship issues. She is currently staying in Ireland. She has 5 years of couple counseling experience.
Comments (0)