By Alan Kennon on Jul 30, 2010 with Comments 0
---
I know what is the question running in your mind the very moment after reading the topic. If I have guessed right! The question is this. Why should I do a cobblers work? There is no specific work specified for any individual. If the need is yours then no doubt the work is also yours. A work needed by you is done more perfect only by you than others. Many think what is there that important for shiny shoes but it is not a careless thing. A shiny shoe can enhance or destroy your outfit's look. So care each and every aspect to give a perfect look.
To have a perfect look maintaining your shoes is necessary. Formal or casual wear is complete only with the well-shined shoes. Different steps to excel your shoes are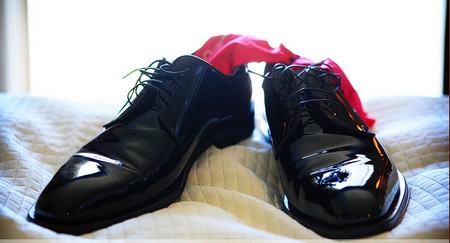 1. Collecting the materials needed for shining.
2. Removing the dust from shoes.
3. Polishing your shoes.
4. Brushing your shoes.
5. Rubbing your shoes.
1. Collecting the materials required for shining:
Things required to make your shoes shiny are cleaning kit, old waste cloth, shoe polish, a shoe shining brush or an old toothbrush. A shoe store makes you available with the cleaning kit, brush, polish. Buy a polish that always matches the shade of your shoe. Buy a neutral polish that suits all your shoes in general that you have got. There are two different kinds of polishes – liquid and wax. Liquid is easy to use but helps us only for a short time. Wax is hard to use but stands for a long. It is always advisable to use wax polish that is more consuming with better shining effects.
2. Removing the dust from shoes:
Remove the dust in the shoes first with an old toothbrush and clean them thoroughly. This can also be done with the shoeshine brush. Moisten an old waste cloth or old t-shirt and swab the left over dust completely.
3. Polishing your shoes:
Take a moderate amount of polish and apply it in a proper way. Do not smear more amount of polish as it takes more time to be parched. If you are using liquid polish, just move it smoothly all round the shoe. If you are using wax polish, make use of the hairy brush inside it and apply it in a globular way until your shoe looks hazy. Leave the polish to arid for at least fifteen minutes.
4. Brushing your shoes:
For achieving shiny look, brush your dry shoe. Never forget you touch up the dried shoes in even stripes.
5. Rubbing your shoes:
Rub your elegant shoes with a wiping motion on its sides to get the excelling effect. Rub it back and forth to achieve better effects.
Keep all your things in a safe box in a right way to use them again easily.
"Make these steps perfectly and shine with your outfit excellently".
Filed Under: Lifestyle & Personality
About the Author: Alan Kennon lives a very happy life with two kids and a lovely wife. He likes to share his life time experiences with others about how they can improve their lifestyle and personality.
Comments (0)