By Carl Tackett on Sep 16, 2009 with Comments 0
---
Montmorency is a suburb located north of Paris, France. It is located 15.3 kilometers from downtown Paris and is one of the more wealthy suburbs in the city. It was the ancestral home of the Montmorency Family, from which the town was named after, one of the most distinguished French noble families. It was also the home of the great French writer Jean-Jacques Rosseau and where he penned three of his more notable works, the Emile, Contrat Social, and Nouvelle Eloise. In addition, the 16th century Church of St. Martin, with its beautiful Renaissance windows, is worth a visit.
Instructions:
From the Charles de Gaulle International Airport go to Roissypole beside Terminal 3 and take the RER B suburban railway, which travels to central Paris four times an hour.
Get off at the Paris Gare du Nord or North Station, one of the six major terminals of SNCF – the French National Railway. Take the Paris – Valmondois or Paris – Pontoise line which departs the station every 15 minutes.
Get off at the Gare Enghien-les-Bains station. Enghien-les-Bains is a town that is 2.1 kilometers away from Montmorency, and is the closest town with a railway service.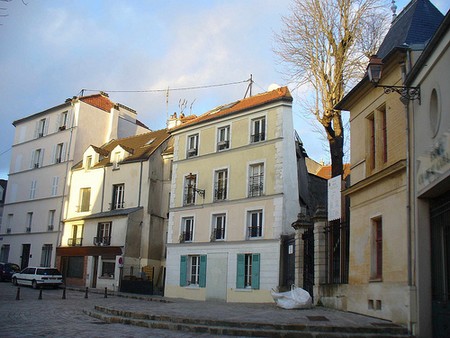 Walk to the Enghien Mermoz Gare from the train station. It takes about two minutes to walk. From there, ride the TVO line 13 bus that is bound for Gare De Domont and get off at Rue De Groslay in Montmorency.
If you do not want to ride trains you can take just buses to get to Montmorency. From Place de la Chapelle in Paris, take the RATP (Régie Autonome des Transports Parisiens) bus number 350 bound for Gare RER Roissy Pôle.
Get off at Roissy Pôle RER – Tremblay-en-France and wait for the AlloBus Val d'Oise line 9502 Rue de la Belle Borne – Montmorency Mairie that is bound for Mairie.
Alight at the Sous Préfecture – Montmorency.
Tips and Warnings:
There are a number of ways to reach Montmorency via a combination of trains and bus rides. It is just a matter of how much money you spend, how fast, and how convenient you want the journey to be.
There is no Paris Metro or railway network that services Montmorency, so the nearest town to get off at is always Enghien-les-Bains.
You can also rent a car and get directions on how to get to Montmorency. You can also take a cab. However, it will cost much more than just taking public transportation.
Filed Under: Uncategorized
About the Author: Carl Tackett is a travel enthusiast. He has traveled to over 50 destinations all over the world. Currently, he is residing in England. He loves to write about traveling and helping fellow travelers.
Comments (0)