By Justin Belden on Aug 03, 2010 with Comments 0
---
Winamp is a proprietary media player for Windows-based PCs, written by Nullsoft, now a subsidiary of AOL. It is freeware/shareware, multi-format, extensible with plug-ins and skins, and is noted for its graphical sound visualization, playlist and media library features. It is overwhelming by its performance when compared with the windows media player and it is popular because of its good and attractive features.
You can download the latest version of winamp in www.winamp.com.  The full version is all you need, but you can download the bundle. Winamp is only 9.5 MB to download compared to iTunes' 67 MB download.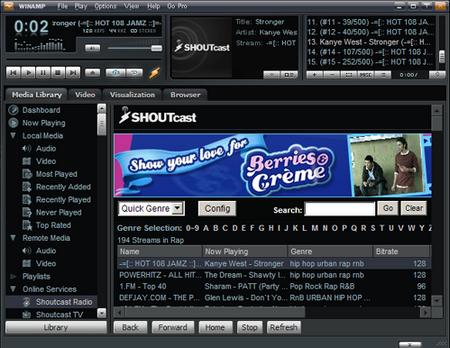 Run the installer, and stop when you reach the Choose Components page. Here is where you can turn off or on various features of Winamp. I recommend turning off Winamp Agent. The settings here are up to you, start with all of them and disable them later if you wish.
Uncheck all the items on the Get The Most out Of Winamp page. You might want Winamp Remote but I do not recommend any others. Launch Winamp, a window titled Winamp Setup will open, select the Bento Skin and associate Winamp with all its supported file types.
These settings are up to you as well. The Winamp Setup will only run the first time Winamp is started. Winamp's media library allows you to create a catalog of your music that automatically updates itself when new media has been added to what it calls Watch Folders.
To add media to your library, click the Library button and click Media Library Preferences. Select Local Media, and then the Watch Folders tab in the window that opens. Settings on this tab also up to you, I recommend having Rescan folders at startup and automatically remove missing files checked.
Click Add folder… and select the folder where your music library or part of your library is held and click Add. Repeat as necessary. Once all folders have been added, click Rescan Now and let Winamp scan your folders for media.
Click Close and select Audio under Local Media from Winamp's main window. Winamp will list all the audio media it found by artist and album, this view is customizable along with many of Winamp's features.
Next we can customize the skin and visual effects in order to make it more efficient. Skins are files which alter the aesthetic design of the Winamp graphical user interface (GUI) allowing "rearranging controls, reshaping the application frame, and even adding functionality" (with scripting). Visualizers or Visualization Plug-in are dynamic add-ons that produce images, colors, and textures that change based elements of the music being played.
Filed Under: Computers & Technology
About the Author: Justin Belden is a freelance web & graphic designer with over 15 years' experience. He is also an Avid member of the Design/Development community and a Serial Blogger who loves to help people by sharing interesting and informative tips and trick related to computer and technology.
Comments (0)